Join a Community of Elite Practitioners
Become a
Certified Medical Massage Practitioner (CMMP)
at the
Science of Medical Massage Institute (SOMI)
Testimonials of SOMI's Alumni:
Only SOMI's CMMP Program:
Sharpens your skills. SOMI's protocols give therapists an incredible set of clinical tools to successfully treat a variety of somatic and visceral problems from Chronic Headaches and Sciatica to Positioning Vertigo and Chronic Pulmonary Disorders.
Develop independent clinical thinking and analysis skills. SOMI tirelessly works with therapists to help them develop strong critical thinking skills to efficiently solve clinical problems.
Work Individually with therapists. SOMI provides extensive individual training and constant clinical assistance to therapists during and following graduation from our program.
Equips you with science-backed data you need to build strong referral relationships with physicians through a shared knowledge of medical science
Build up a new type of practice. A lack of clients or paying rent for an empty office, will never be an issue for you as a CMMP. Some of our former students now make up to 200K per year.
Free Advertisement. SOMI directs all new patients who contact us to our CMMPs. Also, we regularly post the clinical cases of our former students on social media with the therapist's contact information.
STRUCTURE OF THE SOMI'S CMMP CERTIFICATION PROGRAM
Question 1: What are the steps in Medical Massage Certification Program?
        For CMMP certification, therapists will need to accumulate the following training:
        1. One Day of Medical Massage Theory in live Seminar or Webinar format (8 hours).             
             We require theory day has taken twice (16 hours).
       2. One Day of Medical Massage Techniques
             This class is hands-on training in applying basic Medical Massage Techniques,                     
             which are used in Medical Massage Protocols (8 hours).
        3. Nine one-day hands-on training (72 hours total) in the clinical application of                     
              different Medical Massage Protocols. The therapists may choose from the                               
              following topics:
                       Piriformis Muscle Syndrome/Sciatica, aka "Key to the Lower Extremity."
                        Anterior Scalene Muscle Syndrome/Thoracic Outlet, aka "The Silent Killer."
                        Rotator Cuff Syndrome/Subacromial Bursitis, aka "Elusive Shoulder Pain."
                        TMJ Dysfunction & Positioning Vertigo
                        Osteoarthritis (OA)
                        Soft Tissue Trauma/Leg Compartment Syndromes and Plantar Fasciitis
                        Cervical Pain/Trapezius and Levator Scapulae Syndromes, aka "Cervical                                   
                         Tragedy."
                        Carpal Tunnel Syndrome and Golfer's or Tennis Elbow
                        Chronic Headaches
                        Chronic Middle Back Pain, Intercostal Nerve Neuralgia, aka "Mid-Thoracic                             
                         Failure"
                        Chronic Lower Back Pain, aka "Lumbago/Joker of Pain."
          4. 'Patient's Evaluation' class (4 hours) face-to-face with Dr. Ross Turchaninov;                       
                 see the description below.
           5. "Ask and Show" class (4 hours), face-to-face with Dr. Ross Turchaninov;
                 see the description below.
            For each day of hands-on training, we select one or two Medical Massage Protocols from the 70 available from the Medical Massage Volume I and SOMI's Video Library. Sometimes we have a day of training that includes two topics in one day. In that case, therapists learn two different Protocols, but the day will still count as one 8-hour day for CE hours.
             It would be best if you choose your schedule when to take the next seminar. We do not have a required time frame and would like therapists to practice and move forward with the following medical massage protocol when ready.
Question 2: What is the "Patient's Evaluation" class?
              It is a 4-hour face-to-face class with Dr. Ross Turchaninov (2 students max). The class set up as a step-by-step Evaluation of the virtual patients, presented by Dr. Ross. Please follow the links below and read articles from the Video library to prepare for the class.
1. The science of Visual Observation – https://www.scienceofmassage.com/2015/04/the-science-of-visual-evaluation/?v=7516fd43adaa
2. The Science of Clinical Interview – https://www.scienceofmassage.com/2012/01/science-of-clinical-interview/?v=7516fd43adaa
3. The science of palpation:
Part I: https://www.scienceofmassage.com/2015/11/science-of-palpation-part-i/?v=7516fd43adaa
Part II: https://www.scienceofmassage.com/2016/03/science-palpation-part-ii-skin-connective-tissue-zones/?v=7516fd43adaa
Part III: https://www.scienceofmassage.com/2016/06/palpation-soft-tissue-middle-layers/?v=7516fd43adaa
 Part IV: https://www.scienceofmassage.com/2016/09/science-palpation-part-iv-deep-palpation-soft-tissues/?v=7516fd43adaa
              Therapists must print out and bring 4 Clinical Evaluation Forms to the class. They can be found here:
https://www.scienceofmassage.com/dnn/som/journal/1201/FORM.pdf?v=7516fd43adaa
               We highly encourage you to take the "Patient's Evaluation Class" as soon as you have at least one day of Theory, one day of Medical Massage Techniques, and at least one Medical Massage Protocol. That will help you better understand the clinical application of Medical Massage Protocols.
                Please contact the Director of Services at julia@scienceofmassage.com or (602)561-9532 to schedule "Patient's Evaluation" class. The tuition fee for the class is $400 paid by cash, check, or a credit card at the time of the class.
Question 3: What is the "Ask and Show" class?
                The very last step in SOMI's certification program is 4 hour face-to-face class with Dr. Ross we called 'ASK and SHOW".
                 You bring 3-4 clinical cases of your clients/patients for whom you applied medical massage protocols but could not achieve desirable clinical results. You present cases to Dr. Ross and work together to find "missing pieces of the puzzle."
                  This last class is usually scheduled before or after the last medical massage protocol you must take. The tuition fees are $400 for 4 hours class.
                  We are trying to coordinate this with your last seminar to save you as much travel and time as possible. Both 'Patient's Evaluation' and 'Ask& Show' are usually held Fridays, the day before the seminar, or Mondays, the day after the weekend seminar.
Question 4. Where do I access SOMI's Seminar information?
                  Please go to our seminar webpage: https://www.scienceofmassage.com/seminars/?v=7516fd43adaa and click the 'Register' button under each door to get more details about that seminar program, location and how to submit tuition fees.
Question 5. How long will it take me to earn my CMMP certification?
                  That varies with each candidate. We have found that the most effective way to integrate this material is to create enough time between classes to practice and absorb the information. The shortest time our former students took to finish the Program was seven months, but we had therapists who took it for three years. We are looking for quality clinical education!
Question 6. What are the costs of SOMI's Medical Massage Certification Program?
The whole Program is 104 hours, including:
Medical Massage Theory (16 hours)
Medical Massage Techniques (8 hours)
9 Medical Massage protocols (72 hours total)
"Patient Evaluation" (4 hours)
"Ask and Show" (4 hours)
The total cost for these 104 hours is $3,020.00
Question 7. Who is welcome?
                 All therapists with Massage Therapy licenses or current students of MT Schools! NCBMTB approves all our seminars, and we also work with CE Broker in states which require it.
Question 8. When will my certificate be presented?
                 We will present you with your 11×14″ CMMP certificate during the last seminar you attend if the requirements for CMMP are met, and your classes with Dr. Ross are completed.
                  Your certificate will be presented to you on that weekend of training in front of the class with applause for your hard work and an explanation of your outstanding accomplishments.
                   We greatly appreciate all therapists who share a passion for our wonderful profession and would like to return Medical Massage therapy to American Medicine.   
                    Furthermore, we are very proud of all SOMI alumni working throughout the U.S., helping patients in complex clinical situations, restoring their health, and giving them their lives back!
                    For more information on the CMMP program, you're welcome to contact us at
email: julia@scienceofmassage.com 
Call us: (602) 561-9532.
                   Here is a diagram of SOMI's Medical Massage Certification Program. Please click on each box to find out more about its content:
              SOMI reserves the right not to grant the CMMP Certificate if a student did not show proper experience and execution of training techniques in practicing MM. In such a case, graduation can be postponed letting the student accumulate enough clinical expertise.
                Graduating from our Medical Massage Certification program is just the beginning of your exciting clinical journey. Certification means that you can now accumulate individual clinical experience using a science-based clinical approach we provided you as a foundation. 
              Following graduation from SOMI, we continue to provide our alumni with support and guidance on complex clinical cases they may encounter as they develop and scale up their Medical Massage practice.
             For a List of Medical Massage Seminars conducted by Dr. Ross Turchaninov, please click here: https://www.scienceofmassage.com/seminars/ and for Dr. Jeff Cullers' seminars, please click here: www.premiercontinuingeducation.com.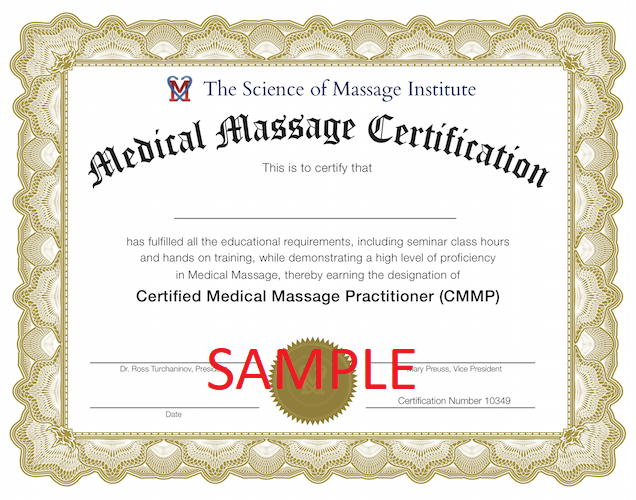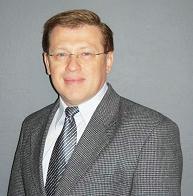 Dr. ROSS TURCHANINOV'S BIO
I graduated from Odessa Medical Institute, named N.I. Pirogov, in 1983. After graduation from medical school, I was accepted into the special residency program at the Kiev Institute of Orthopedics. This program gave the participants a unique opportunity to start their Ph.D. work at the same time while finishing their residency. Kiev Institute of Orthopedics is Ukraine's largest orthopedic and rehabilitation hospital and a world-known research facility. The most complex clinical cases from the entire country are sent there. I finished my clinical residency in 1985.
I do research (I have published over 100 articles in medical journals), lecture, and wrote three books that were very well received by the massage, physical therapy, chiropractic, and medical communities. On many occasions, I was invited to lecture on medical massage in hospitals. I presented the same topic during the Annual Meeting of the American Academy of Pain Management, Barrow Neurological Institute, Mayo Clinic, etc.
At the same time, I practice medical massage in a clinic in Arizona. 90% of my patients are referred to the clinic by local physicians I am working with. We deal with many patients in the clinic, from impotence (see the case in the August/June of 2010 issue of JMS) to debilitating headaches and spinal stenosis. Traditional medicine gave up on many of these patients. 
Testimonial
Medical massage therapy has been extremely helpful in helping me and my patients in the treatment of multiple musculoskeletal ailments. Some of my patients have visited multiple chiropractors and pain doctors without being able to regain full function or achieve adequate pain relief. After a few treatments and the exercises prescribed by Dr. Ross, my patients were able to get pain relief and improve their quality of life. I myself am a patient of Dr. Ross who treats my acute back pain exacerbations. After just one treatment I am back to work. I highly recommend Dr. Ross who has more than 30 years of experience in relieving and treating acute and chronic musculoskeletal conditions.