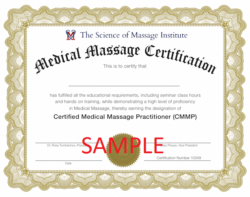 JOIN OUR COMMUNITY OF ELITE PRACTITIONERS
And Propel Your Practice into the Lucrative Medical Field
A Medical Massage Certification from The Science of Massage Institute (SOMI) places you in the company of a select and prestigious world community – dedicated professionals who are trained in scientifically grounded somatic therapies and are the most respected and sought-after.
The benefits of becoming a Certified Medical Massage Practitioner (CMMP):
Medical Massage Clinicians are the highest paid in the industry.
You will become a medical professional who has integrated Medical Massage into your Therapeutic Massage practice to include the lucrative field of successfully treating disorders of the musculoskeletal system (e.g., rotator cuff, fibromyalgia, chronic headaches, etc.) and the nervous system (e.g., carpal tunnel, sciatic nerve neuralgia, positioning vertigo, etc.).
Since you will be a medical professional, many of your clients will be referrals from physicians, significantly broadening your practice.
You have the personally fulfilling experience of eliminating pain and chronic conditions and truly helping people.  We assist you to become clinically thinking Medical Massage Practitioners who are flexible in their analyses and decisions.  Medical Massage is an intellectually stimulating way to practice bodywork.  By constantly engaging your mind, it frees you from the box-like mentality of using a single method or technique.
You will love the professional 11 X 14" Medical Massage Practitioner certificate to prominently display and our certification insignia to place on your website and print on your business cards and stationery.
Your name, contact information and specialty will be posted on the SOMI website connecting you with doctors and clients in your area who can only be helped through Medical Massage.
Why certification from The Science of Massage Institute is the most respected and valued:
Only SOMI has distilled the last 100 years of clinical trials and research to present 100% science-backed techniques and protocols. Every single thing we teach is based on incontrovertible and clinically effective science.
Only SOMI teaches the skill of knowing how to combine therapeutic massage techniques to create treatment protocols unique for each client.
Only SOMI has Dr. Ross Turchaninov, who reintroduced Medical Massage to America through textbooks which are the gold standard in colleges and teaching institutions across the country.
Only SOMI teaches professional level Clinical Thinking, based on science with an arsenal of tools to support your personal practice.
Only SOMI offers both Video Libraries where you can examine and practice the 60 Basic Technique variations for Medical Massage which then apply directly to the successful treatment of Medical Massage Protocols for 70 of the most common pathologies.
Only SOMI teaches you how to examine the soft tissues on a level by level basis, concentrating on the structural abnormalities of the soft tissues.
Requirements for Certification:
We offer 2, 3 & 4-day seminars throughout the United States.  Please click the SEMINAR tab for the variety of combinations and options. 
All seminars include one day of lecture for Understanding the Medical Massage Concept which you are required to take when you attend your first seminar.  This gives you a thorough understanding of Medical Massage based on modern science so you understand when, where, how and why to use Medial Massage and easily explain it to your family, friends and the medical community.  This Lecture day varies a bit with each Focus Subject and always includes some hands-on.  For CMMP requirements you need to repeat this day, at your convenience, to give you 2 lecture days.
We frequently offer Basic Medical Massage Techniques.  This is the basic component of any Medical Massage session and for your CMMP we require you to attend one of these days.
The remainder seminar day or days provide hands-on Focus Subject or Subjects using one or two selected subject matters as examples to give you a complete understanding of the pattern of soft tissue rehabilitation using Medical Massage.
Each day is 8 hours and is worth 8 CE credits. You receive Continuing Education credits regardless of whether you are renewing your license or working toward certification.  To become certified you must have the following, in any order (you can apply any CEs earned at any SOMI Medical Massage seminar since January, 2009):
2 days of Understand the Medical Massage Concept – Lecture (16 hours).

1 day of Basic

 Medical Massage Techniques which is the basic component of all Medial Massage.

9 days of hands-on training in a variety of different Focus Subject days.

2 four-hour personal training sessions with Dr. Ross Turchaninov (total of 8 hours in two sessions). *
*These personal sessions with Dr. Ross are offered, in almost all cases, the day prior to every seminar but please check on availability, reserve your place and pay for the class through SOMI directly at 602-953-2945.  
You need to schedule the 4-hour EVALUATING YOUR CLIENTS class with Dr. Ross as soon as you've taken one 3-day weekend seminar with two Focus Subjects, one Basic Medical Massage Techniques class and a second day of Understanding the Medical Massage Concept class.  You learn how to perfect the evaluation process individually for each of your clients, pinpointing the source of the innervation so your treatments are successful.  The charge for this personal session with Dr. Ross is $400 for the 4-hour session.  You do not receive CEUs for this training. 
When you schedule your last Focus Subjects classes with The Science of Massage Institute for your CMMP you are required to take the second of the 4-hour personal classes with Dr. Ross "ASK, SHOW AND TELL" which is just that!  You bring your questions about Techniques or their applications, unsolved and solved cases, etc. for the final update for independent clinical thinking.  YOU get to ask about all of the issues and questions and Dr. Ross will "Show and Tell" you the answers and resources you need to hone your clinical reasoning skills.  The charge for this personal session with Dr. Ross is $400 for the 4-hour session.  You do not receive CEUs for this training.
All of the seminars cost the same whether you are earning your CMMP or attending for CEs.  The only additional cost to earn your Certification is the personal training with Dr. Ross.  You are billed when you register for the seminars you choose to take and when you choose to book your 4 hour sessions with Dr. Ross. Please let us know your intent so we can place a hold on your request.  We continually provide you with the support and the resources you need whether you are working towards your CMMP or are attending one class.  Dr. Ross will teach you Clinical Thinking to prepare you to use the highest level of professional training you can receive from SOMI.

Our 96 hour Medial Massage Certification Program provides the assistance and training to escalate novice students to Level 3 to become Competent Medical Massage Practitioners.  When you reach this point you will continually build your own skills by gradually engaging Clinical Intuition.  This is why levels 4 and 5 are Professional Growth and Development.  We assist you throughout your journey to Medical Massage Clinician until you reach the peak of your professional expertise. 
For additional details refer to Frequently Asked Questions (FAQ) at the top of this page.  If you have more questions, to arrange personal instruction with Dr. Ross or if you are close to receiving your CMMP Certification contact our office at (602) 953-2945 or email maryp.science@cox.net.
All Continuing Education Hours provided by The Science of Massage Institute (SOMI) are approved by the National Certification Board of Therapeutic Massage & Bodywork (NCBTMB #312994-00) as well as all states where we offer classes including Florida (20-131803).  The Medical Massage Certification program (CMMP) has been developed to improve the quality of clinical performance in the area of Medical Massage.
ATTENTION PROFESSIONALS WHO HAVE ATTENDED OUR SEMINARS
FROM JANUARY 2009 TO DECEMBER 2016
The Certification Program changed January 2017 
Requirements for CMMP Certification have increased from 6 Focus Subject days to 9.  We have advised all of you who have attended SOMI Medical Massage seminars in the past, to take your time throughout training for the purpose of absorbing the information and practicing it, so we will certainly honor the original requirement of 6 days of Focus Subjects for you. You will still need 2 Understanding Medical Massage Lecture days and 1 Basic Techniques for Medical Massage day.
We have found that 3 additional Focus Subject days make a marked difference in transitioning your practice.  It makes our elite CMMPs more knowledgeable and fluid in practicing Medical Massage. This means more ease and comfort in treating clients and therefore, more income, status, referrals and returning clients. The new Marketing Kit that you receive at the seminars is a huge boost to working with Doctors and Chiropractors and, of course, we will still give everyone who attends our seminars a discount code for the Video Library (20%).  The extra instruction is most beneficial to help insure your lucrative career in a future billion dollar industry.
We are not raising seminar prices in 2018. The only price change as of January 1, 2018 is $400 per session for your 2 personal classes (Evaluating Your Clients and Ask, Show & Tell) with Dr. Ross.