Unfortunately, I do not know Mike Hinkle personally. However, we are closely following his World Massage Festival and other projects. I think that we need more people like him who did not operate under the umbrellas of big officials and in many cases inefficient professional organizations. It is great that Mike was able to combine his education with modern technology for the benefit of the entire profession.
Dr. Ross Turchaninov



Here is our interview with
MASSAGE EDUCATION VISIONARY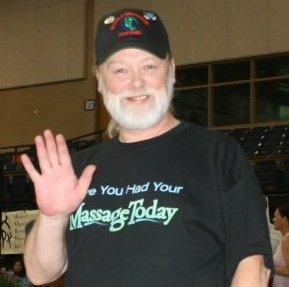 M. Hinkle, LMT
JMS
: How did you get into the field of massage therapy?
M. Hinkle, LMT
: I was a traveling writer for my online magazine called "Cruising America". I got massages as I Traveled around. I settled in the South Padre, Texas area for a while and a therapist convinced me to go to Florida and study massage.
JMS
: You are the father and the major driving force behind the World Massage Festival. Please tell our readers how you got this great idea. What goals would you like to achieve with the World Massage Festival?
M. Hinkle, LMT
: I was the Editor of The Journal, a newsletter for the AMTA-Florida Chapter and I was asked to come up with an idea to bring attention to massage from the public. After studying the industry, I saw we were not honoring our own. So I started the Massage Therapy Hall of Fame. It needed an event that we could have classes at as well, thus The World Massage Festival.
Goals… every year they grow with us! My Goal this year is to look out and see 1,000 therapists attending the Hall of Fame Ceremony honoring the 24 fantastic inductees we have.
JMS: We know that you manage other projects as well. For example, the websitewww.massageprofessionals.com

M. Hinkle, LMT: I have many projects and I wish I could claim this as one of them. This site is owned and operated by ABMP. I do run
http://www.massagelane.com
http://www.worldmassage.org
http://www.worldmassagefestival.com
http://www.mtproject.org
And a few more.

JMS: Please tell our readers about your practice, as well as any current and future projects.

M. Hinkle, LMT: Each year at the Symposium, I hear someone talk about a problem that they or the profession face. I try to find the solution.
My practice is probably one of the most unique in the field. I help people through the year and then have the Festival. I always have a project going. Right now I have think tanks organized and/or working on state-to-state reciprocity.
JMS: Do you have a favorite type of bodywork?

M. Hinkle, LMT: Esalen, Lomi and Thai-Yoga

JMS: Would you like to give any advice to our readers?

M. Hinkle, LMT: Don't listen to anyone that says you can't. If you need help, write me!

JMS: Thank you and good luck with your wonderful projects!




Biography
Micheal Hinkle started the World Massage Festival & Massage Therapy Hall of Fame in 2006 for the dual purpose of making continuing education for massage therapists affordable enough for everyone and as a way to recognize those who built the bridges for the industry. His philosophy is based on the poem, 
The Bridge Builder
 by Will Allen Dromgoole.
The established industry conventions charge such high fees to attend their educational events as to make it unattainable for the everyday massage therapist, who is not in it for the money, but does the work out of their commitment to helping others. Not only are their registration fees exorbitant, but the venue for their conventions is always in resort hotels with high room and meal costs.
Since its inception, the World Massage Festival has enabled over one thousand massage therapists to get hands-on continuing education credits from world-class instructors at about 1/3 of the cost of the established association prices. He has done this with little to no financial support from the industry and in spite of the very active resistance he has gotten from some of the massage industry hierarchy.
Micheal brings a wide variety of life experiences to the table. He spent his childhood on the baseball field, in hopes of a career, ended by an injury. After serving in the US Air Force in South Dakota, he became a licensed cosmetologist in California and spent a year traveling our National Parks, giving free haircuts along the way as he worked odd jobs to pay his way. After that, he created a BMX track in California as part of the local county recreation program. He returned to his native South Carolina & built a BMX track for this community as well.
As a barber in South Carolina, he wrote, published & distributed a free alternative local newspaper to the county's unincorporated areas. The residents are mostly retired or low income families for whom it was a burden to travel 10-20 miles to the nearest grocery store, post office or recreational opportunity for the children. He pushed, prodded and cajoled business & political leaders, relentlessly lobbying for services in the county. The result was establishment of a co-ed little league baseball program, a major chain grocery and a branch post office in the county.
For the next five years, he traveled across the country as a travel writer, living in his motor home. He visited all 50 states, except Hawaii… no bridge for the motor home to travel. In Texas, he met a massage therapist who offered to show him the basics of this healing art and he was hooked. He relocated to Florida, attended massage school and opened a 7-room massage therapy practice, where he encouraged & mentored dozens of new massage therapists. He also became active in the local chapter of a national massage organization & discovered just how little was actually being done for the average therapist, thus bringing him full circle to the creation of the World Massage Festival.
Category:
Person of the Month