Several weeks ago Dr. Glenn M. Hymel Editor, Executive of the International Journal of Therapeutic Massage & Bodywork (IJTMB) and member of our Editorial Board received a curious phone message and subsequent fax document from someone named Mason Garrett without any follow up contact information. According to this Garrett's voice message and faxed communique, he is currently working on an article on fraud in the massage therapy profession. This fax was an excerpt from that article and it also informed that this article is ready for publication. Work of Mr. Garrett targeted me and another physician and great educator in the field of science of massage and manual therapy. Before I continue I would like to express my deep sense of privilege to be in such respected company company as that of the colleague who has been likewise attacked, but unfortunately on such a sad occasion. Personal attacks against me consist of the following three egregious charges:
1. I don't have a medical degree
2. I didn't finish my residency in the Kiev Institute of Orthopedics
3. Thus I am using false information to misrepresent myself and jeopardize everything, including public health.
Mr. Garrett based his accusations on the fact that his research didn't find both educational institutions and I allegedly made them up. He also claimed that he sent me a letter with a request for the verification of my credentials, but I didn't reply to him.
At the beginning I thought that I would not react to such disgusting attacks because I didn't want to get on the same level with Mr. Garrett. However, after careful consideration and especially the fact that a lot of people are associated with my work and publications, including Journal of Massage Science I decided to set the record straight with the following documented rebuttal and also to find out where these attacks are coming from.
I graduated from Odessa Medical Institute, named N.I. Pirogov, in 1983. At that time the Ukraine was part of the Soviet Union and after gaining its independence a lot of changes happened in the country. After 1991 the same Medical School was re-named Odessa State Medical University in the name of Prof. N.I. Pirogov. However, my diploma states that I graduated from Odessa Medical Institute and this is what I used in my CV during my lifetime. Here is copy of my diploma with a recent US translation. I shortened my first name after becoming a US citizen.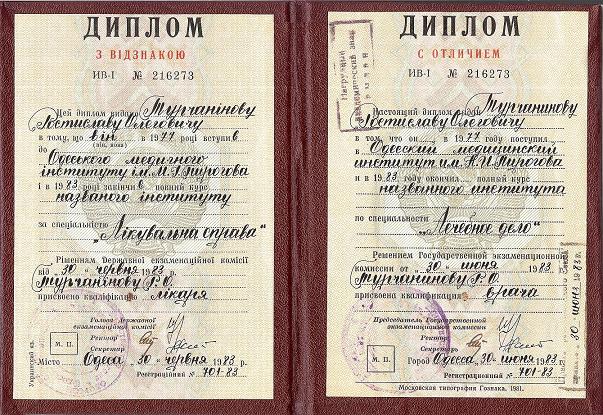 Fig. 1. Diploma (Odessa Medical Institute)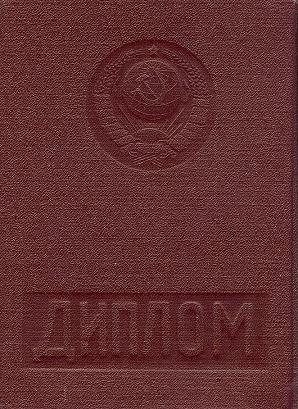 Fig. 2. Cover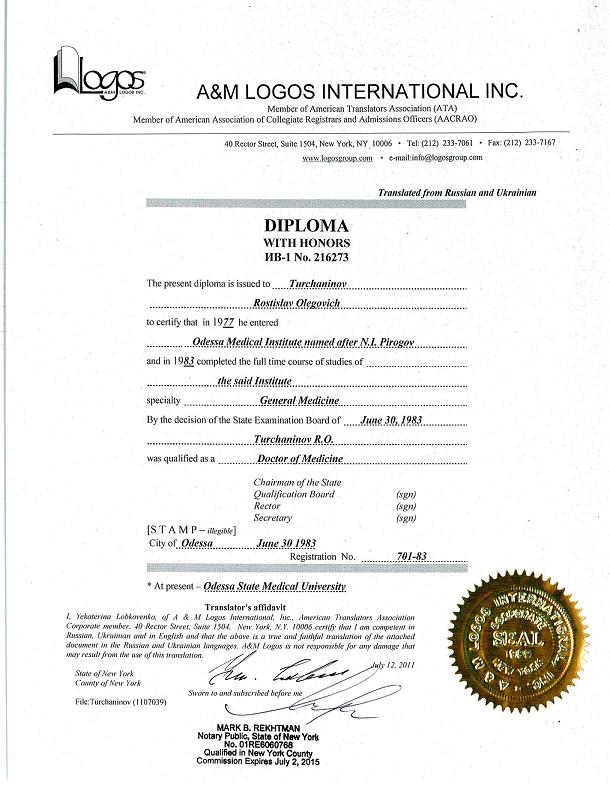 Fig. 3. Authorized translation
Also, if you notice, that the cover of my diploma is dark red and according to the custom this type of diploma awarded to those who graduated on the top of the class (there were 350 students who graduated with me that year). All other awarded diplomas were deep blue.
Here is the link to the official website of Odessa State Medical University in the name of Prof. N.I. Pirogov (formerly known as Odessa Medical Institute) which Mr. Garrett had such difficulty in finding despite its wide accessibility on the Internet:
Also here is the link to the medical schools accredited in the state of California:
http://www.credentialwatch.org/non/california_medical.shtml (Odessa Medical Institute is in this list, probably by mistake, in the section of Russian Federation instead of Ukraine)
In regard to my alma mater which, according to Mr. Garrett, doesn't exist. This medical school is one of the oldest in the Ukraine and Russia. It was founded in 1900. If Mr. Garrett paid more attention to the history of microbiology and immunology in his nursing school he may remember that in this educational institution the entire science of immunology was born. Prof. P.I. Mechnikov, who discovered phagocytosis, and put the first stones in the foundation of modern immunology started his Nobel prize winning work in Odessa Medical Institute, and I was privileged to study both disciplines in the same lab building where he worked. Here is the link to Professor P.I. Mechnikovs' biography from nobelproze.org website where Odessa is widely mentioned as a part of his bio:
http://nobelprize.org/nobel_prizes/medicine/laureates/1908/mechnikov.html 
After graduation from medical school I was accepted in the special residency program in the Kiev Institute of Orthopedics. This program gave the participants a unique opportunity to start their PhD work at the same time while finishing their residency. The official name of this program in Russian was clinical ordinatura. Here is the official document and its American translation which shows that I finished clinical ordinatura in the Kiev Institute of Orthopedics in 1985.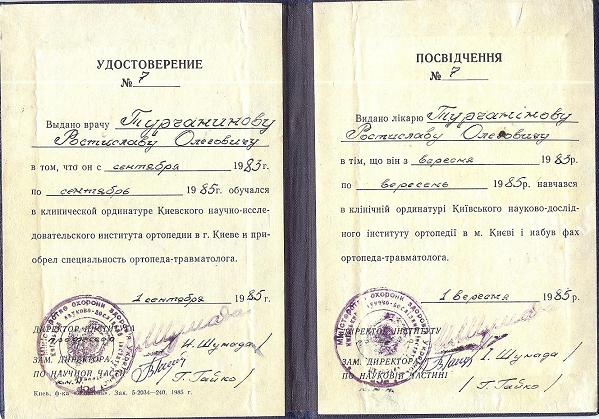 Fig. 4. Diploma (Kiev Institute of Orthopedics)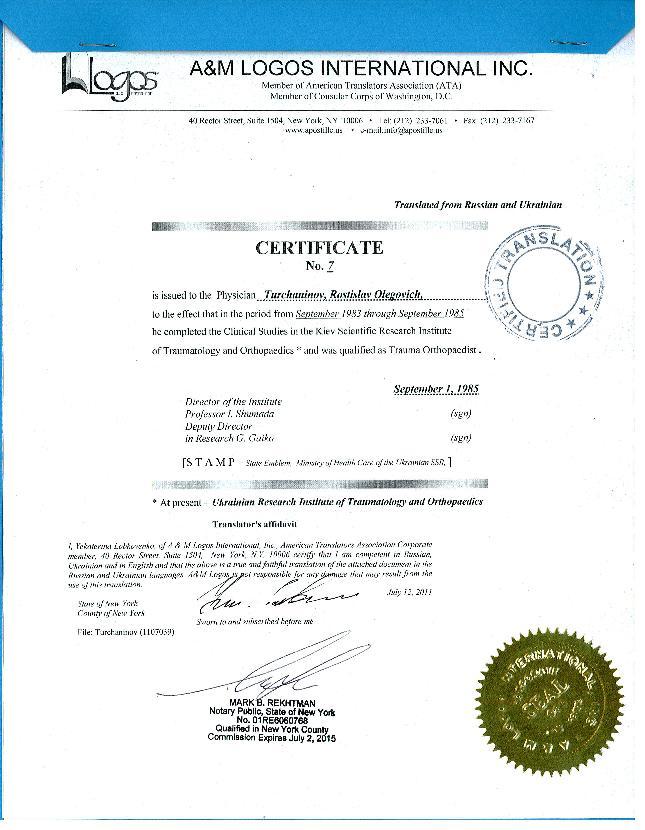 Fig. 5. Authorized translation
Kiev Institute of Orthopedics isn't a medical school but a largest orhtopedic and rehabilitation hospital in the Ukraine, and world known research facility. The most difficult clinical cases from the entire country are sent there. Kiev Institute of Orthopedics, which, according to Mr. Garrett doesn't exist, was founded in 1919, or 92 years ago.
Here is the English language link to Kiev Institute of Orthopedics:
http://www.rql.com.ua/users_out/orthopedics/eng/directions.html 
Now about my 'fraudulent' activities and public health threat Mr. Garrett is so worried about. Yes, indeed I don't practice traditional medicine in the USA and I have never claimed in any of my posts or my CV that I do. I do research (I have published more than 50 articles in the medical journals), lecture, wrote three books which were very well received by massage as well as physical therapy, chiropractic and medical communities. On many occasions I was invited to lecture on medical massage in hospitals and presented the same topic during the Annual Meeting of American Academy of Pain Management in 2007.
At the same time I practice medical massage in the clinic in Arizona. 90% of my patients are referred to the clinic by local physicians I am working with. By the way, two of them are members of JMS Editorial Board and regular contributors. In the clinic we deal with a large variety of patients from impotence (see case in August/June of 2010 issue of JMS) to debilitating headaches and spinal stenosis. Traditional medicine gave up on many of these patients. Sometimes we helped patients with the most bizarre conditions, which Mr. Garrett doesn't even know exist despite his nursing degree (see case from our clinic in March/April 2010 issue of JMS). Considering the fact that our patients are referred or seen by a licensed physician first, Mr. Garrett may sleep well if he is so worried about public safety.
After all of this I have right to know who is Mason Garrett and what are his motives for such egregious and totally unfounded attacks? The only one (!) association of this strange gentleman with the profession is the fact that he was a contributing writer for the Journal of the American Manual Medicine Association where he was on the Editorial Board. He is apparently an RN and CMT. There is not any mention of him so far. Also it seems that he didn't actually contribute anything to this Journal which was published two times per year with the last publication in 2009. However, his 'contributions' apparently stopped in 2008 because there is no one of his name associated with the Editorial Board of the Journal in any later issues.
First of all Mr. Garrett is guilty of both libel and slander (the latter involving phone voice messages in which similar accusations were made as eventually surfaced in the aforementioned faxed communique). He never sent me any letter with a request of my credentials verification.
Secondly, he claimed that he wasn't able to find both educational institutions I graduated from. Links for both educational institutions I provided above are very easy to find using Google search.
Thirdly, Mr. Garrett would be well advised to avoid leveling unfounded accusations against colleagues about whom he knows very little. To do otherwise as has occurred is alarmingly unethical, embarrassingly unprofessional, and legally quite dangerous.
What is puzzling me is why someone will spend time and energy on such things Mr. Garrett is involved with? Rather than assailing the established credentials and professionalism of colleagues, he would do well to direct his time and energies to more professionally noble and personally fulfilling causes.
Dr. Ross Turchaninov
Category:
Letter From The Editor