A DAY IN THE LIFE OF THE US WOMEN SOCCER NATIONAL TEAM'S THERAPIST
By Angela Bitting, LMT, CMMP
When someone asks me what it's like to travel with the U.S. Women's National soccer team, usually my first answer is it's an honor and a privilege. And it was no different this summer during the World Cup tournament in Canada. Twenty-three of the USA's best female soccer players headed to Canada with one singular goal in mind – Bring home the Cup!
The USWNT always travels with support staff. The medical support staff always includes two Athletic Trainers (ATC), two massage therapists and when traveling outside of the U.S., a Doctor. Here is a picture of the USWNT's medical support staff who helped our girls win the World Cup.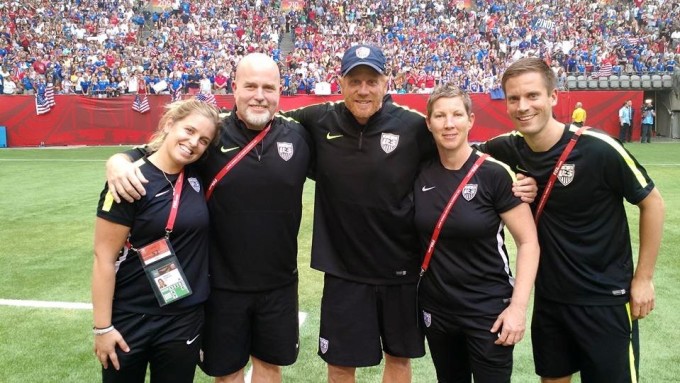 From left to right: Kristen Knightly (DPT, massage therapist) Cody Malley (PA, ATC), Rick Guter (PT, Lead ATC), Angela Bitting (massage therapist) and Bojan Zoric (Ortho Doctor)
What follows is a look at a day in the life of a USWNT massage therapist. We are all flown in on the first day of "camp" from our various home cities. We travel and stay with the team. Imagine a giant family moving from hotel to training for weeks at a time.  Most times we have our own team floor in the hotel. This is where the training room and massage room are located. Imagine a hotel room emptied of its contents with stacks of sheets and towels. We set up our massage tables and voila, instant clinic room! Keep in mind we were in seven different hotels during the World Cup tournament. Once we were settled in, each evening we received an itinerary for the following day's events.
8:00 – 10:00 Breakfast. Yes. We eat buffet style, like a big family.
11:00 – Depart for training. Here's the fun part. When in the U.S. the support staff drives the players to and from training in mini vans. Just a little nerve racking, driving such precious cargo. When traveling internationally we typically all ride a bus to and from training.
11:30 – 1:00 Training. Massage therapists are at the field during training to help with anything and everything. Fill water bottles, stretch players, chase balls, help equipment staff set up field – truly any and everything. Occasionally you may find us tuning up our amateur soccer skills while the team warms up/trains.
2:00 – 3:30 Lunch. Again family buffet style. Occasionally we may have a lunch/dinner on our own. Or the team may go out to dinner instead of the hotel buffet.
4:00 to 5:30 Massage treatments.
6:00 – 7:30 Dinner. Again family buffet style.
8:00 to 9:30 Massage treatments.
It doesn't ALWAYS look like this. In some camps this past winter we had two-a-day trainings and weight lifting sessions as well. On these days we may only get a few massage treatments in for the evening. And then other camps may have team meetings in the afternoon or evening that also change how the massage schedule looks. Our daily goal is to provide enough 30 minute time slots to cover half the team, which allows players the option of getting treatment every other day while in camp.
Treatments include standard "Flush Massage Therapy" as massage of the lower body to accelerate recovery by restoring the balance within the autonomic nervous system using an inhibitory regime of massage therapy to make muscles lighter by accelerating lymph drainage and waste removal. When needed, full MEDICAL MASSAGE PROTOCOLs are used to deal with various acute or chronic injuries. We work closely with the ATCs to provide comprehensive care.
The team was lucky since all players were in good shape and didn't suffer any serious injuries during the Cup. The only medical issues we as therapists faced were tightness of gluteal muscles, peroneal muscles and plantar fascia in several players. Incorporation of elements of MEDICAL MASSAGE PROTOCOLs into the recovery routine helped players to recuperate very quickly.
Once evening treatments are complete and we have staged all gear/equipment if it is a travel day the following day, then it is off to bed to rest and then repeat. On game day, we are available for any little tweaks players may need along with stretching. We load up tables and head to the stadium. Once set up in the locker room we again are available for anything players need for their pregame preparation. Then it's out onto the field for warmup and then Game. During half time we assist in the locker room distributing water, drinks, electrolytes, cold towels, etc.  Postgame massages in the locker room were provided during the WC tournament. This was a quick 10 minute light massage to help recovery. ATCs and LMTs all provided massage to get the most players treated. Then onto the bus back to the hotel and rest for the next day, which may be a travel day, a training day or a heading home day.
July 5th, 2015 will be a day in my life I will never forget. I was a part of an extraordinary group of athletes and staff who brought back the World Cup to the U.S.  Mission accomplished!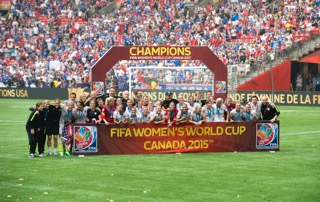 One Nation. One Team.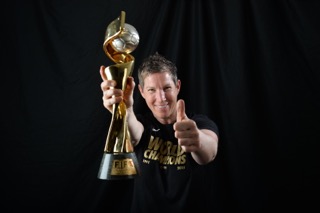 It was my honor and a privilege to be part of this historic event!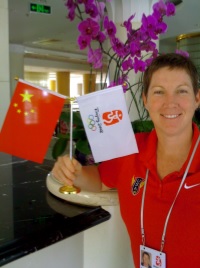 Angela Bitting has 22 years of massage experience and is a graduate of Eckerd College, with a degree in Wellness and Holistic Health.
She has been providing treatment oriented sport specific massage and stretching to professional athletes for 14 years. Ms. Bitting had the honor of being a member of the sports medicine team for USA Track & Field, including multiple trips to World Championships and the last two Olympic Games.
Angela operates a private practice in the Tampa, FL area where she resides with her husband Mike and daughter Amelia.
Category:
Sport Massage