Our Person of the Month for this issue of JMS is Kara Mirarchi, LMT, CMMP who is the Director of the Massage Therapy Program at America Carrier College in Long Beach, California. We met Kara several years ago during a Medical Massage Seminar in Ontario, California. From the very first class it was obvious she would succeed as a Medical Massage practitioner and she did. What we didn't anticipate was that she also would become an excellent educator who enriches her students with her knowledge and expertise.
In SOMI we believe the only way for massage therapy to become part of conventional medicine and help patients is by producing therapists who can deliver. Unfortunately, a small number of massage schools understand that students must be theoretically, technically and clinically equipped to succeed in the field.
Kara was able to turn around a negative dynamic within the massage therapy program in ACC and develop a modern, vibrant and scientifically based curriculum which gives students exceptional clinical skills. This is why we think Kara's expertise and experiences will be interesting for our readers.
Dr. Ross Turchaninov, Editor in Chief
Here is our interview with
A SCIENCE BASED MASSAGE EDUCATOR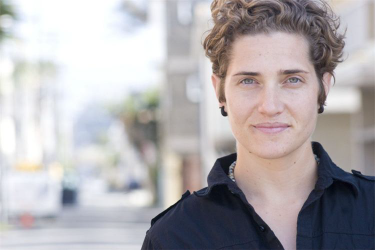 Kara Mirarchi, LMT, CMMP
JMS: How did you become involved in the massage therapy field?
Kara Mirarchi: A question I ask all potential students during the admissions process when they are thinking about enrolling in my Massage Program is "Why Massage?"
I almost always get the exact same answer, "I grew up massaging my family members…..it was an instinct I had." I always smile when I get this answer because I know this person is a perfect fit for my program. Massage, like many other talents, is a gift. It then becomes my job to sharpen the tools that they were already born with. My story is similar. I grew up giving family members shoulder rubs at the dinner table even as an early teen. I was drawn to do it.
Later in life it was massage therapy that played a major role in my playing competitive soccer. I had a huge growth spurt that created significant flexibility issues for me right at the peak of my high school career. A massage therapist was able to get me playing pain free in a matter of weeks and this time, it was with an edge I didn't have before. After college was over and my soccer career came to an end, I felt the call again and went straight to massage school.
JMS: You've successfully worked as a therapist, an instructor in a massage school and now as a director of a massage therapy program. What challenges did you overcome to get to your current position?
Kara Mirarchi: In my experience, many (not all) of the massage therapy programs in the US have been manufactured to get students in and get students out. The focus is more on quantity not quality. Students who have come under my tutelage quickly realize that it is the opposite for me. I'm all about the quality. Curriculums don't fully support many of the state and national requirements and therefore leave students shorthanded when it comes to tests for licensure, etc. Furthermore, the didactic culture of these programs often doesn't allow adequate time for students to master the hands on portion of the program.
These are just a few of the obstacles I have had to overcome in order to develop students the way I feel sets them up for success and that arms them with the tools to create lasting effects with their clients. I knew that I didn't have much of a voice as an Instructor despite my extensive experience and education as a therapist. I knew that becoming a Director was the only way I could actually create change.
JMS: Under your management, ACC has incorporated some aspects of Medical Massage in its basic massage therapy curriculum. How have these changes affected your students and their performance?
Kara Mirarchi: In January, 2015 ACC allowed me to augment the existing curriculum and a big part of that was getting Dr. Ross Turchaninov's Therapeutic Massage –A Scientific Approach into the line-up. In conjunction, we use the Science of Massage website and Video Library on a daily basis. Although some of the readings are very scientific, our students are intrigued with the content. Since we introduced concepts of Medical Massage, students are thinking more critically. For example, prior to doing this, students were so concerned with memorizing information so they could get questions "right." Now the students have knowledge. They understand that each layer of tissue requires a specific technique. They know when and where to use each technique. The Phenomenon of Adaption alone has changed how they perform in the lab.
I chose to drip concepts of Medical Massage throughout the 9 month program which has slowly increased their appetites for more. Dr. Ross just did a seminar in October at my campus and I had 4 students present. They are thinking bigger picture now when before it was just oil and skin.
We already have a 90% job placement rate of our students from recently graduated classes. All our graduates were offered jobs in chiropractic and PT offices.
JMS: From your perspective, what is the current state of massage education in our country and where do you see potential for improvement?
Kara Mirarchi: Many of the massage therapy programs in the United States are designed to provide small amounts of knowledge in several areas of massage. For example, in a 9-10 month program a student can cover 20-30 modalities – each one receiving short amounts of attention leaving no time to master any of the skills. Jumping around from Eastern to Western modalities is also a common trend.
Students need consistency. It's not to say there is no value in learning other modalities. I am an advocate for an integrative approach and was trained in Zen Shiatsu and Sports Massage. I understand that students leave their massage institutions confident in their skill set, customer service and ability to articulate why they are doing what they are doing with each client.
I meet with employers that hire our students 2 times a year and their comments have been staggering. They all have the same feedback about students' ability to drape or do deep tissue effectively. I have heard from several employers that although the individual was cordial and on time, too many come out of school requiring more training by the employer. This is unacceptable to me and I have set the standard at ACC very high.
I do, however, think it's changing. I recently was asked to join a Massage Therapy task force to help author programmatic standards for ACC's accrediting body ABHES. I can tell you first hand that the standards are escalating and accreditation takes Massage Therapy seriously.
I started taking Dr. Ross' Medical Massage classes in 2009 when I was an Instructor. I immediately knew that I wanted to follow in his footsteps. I knew that if I continued with him that I could gain the knowledge to be able to multiple myself by educating my students. Then my students go out and change the lives of others and it would become a domino effect. There is a silver lining. The momentum is building and it's through education that the massage industry will get the recognition it deserves.
JMS: In what direction as an educator do you see yourself going in the future?
Kara Mirarchi: I was asked recently by a representative of USC Keck School of Medicine to participate in supporting education, research and treatment for neuropathic chronic pain diseases. After discussions with them and some of the individual's dealing with these diseases, I felt a want to get more involved.
I would love to take my expertise into hospitals and pain management centers to educate patients and doctors to the possibilities of Medical Massage. If you heard about some of the courses of treatments these folks were taking, you would cringe. Organizations like Keck are open to new innovative modalities and are interested in getting results. I would love to get more involved.
JMS: What is your type of bodywork?
Kara Mirarchi: Aside from my duties as a Director, I have a private practice. I work with individuals with chronic pain, injury and sports performance. I love the challenging cases – the ones that really make you think outside the box.
I recently have taken on a patient with a severe postural dysfunction. The patient called me after working with her the second time and said after our session she went into the bathroom to brush her teeth and could taste the toothpaste. She had lost her sense of taste and smell and our course of treatment was bringing it back for the first time! This is the type of case that gets me fired up and really inspired to do this kind of work.
JMS: What advice you would like to give to our readers?
Kara Mirarchi: First of all, if you have taken the time to read this, you must have the itch. That "thing' got inside me after taking Dr. Ross' seminar for the first time. It led me and it will lead you into wanting to know more and begged you to start self-teaching from SOMI educational materials. With knowledge comes great responsibility. Taking on some of the hard cases takes courage and you may take your client down some wrong avenues from time to time. My advice is take risks and sometimes don't take no for an answer. You will never harm anyone if you approach the patient's therapy from a scientific point of view. And don't be afraid to take responsibility when you have taken the wrong course. You will find another solution! You have a duty to this work once you have the knowledge.
We are all Dr. Ross apprentices carrying the torch and lighting the way for him as he continues to push medical massage into the American medical care in the 21st century. Study hard and know in your hearts that you are part of something enormous.
Category:
Person of the Month
Tags: Issue #4 2015