We're turning things upside down with the new CMMP Master Certification program and we're having a ball doing it!  What a GREAT time everyone had at the Scottsdale seminar initiating 3 new LMTs into CMMP Master Certification!  Congratulations Samantha Avery, Susi Crawford and Kim Kingston!  We also applaud new CMMPs Kara Mirarchi, Daniel Lopes and Mary Regan from October's seminar in Long Beach.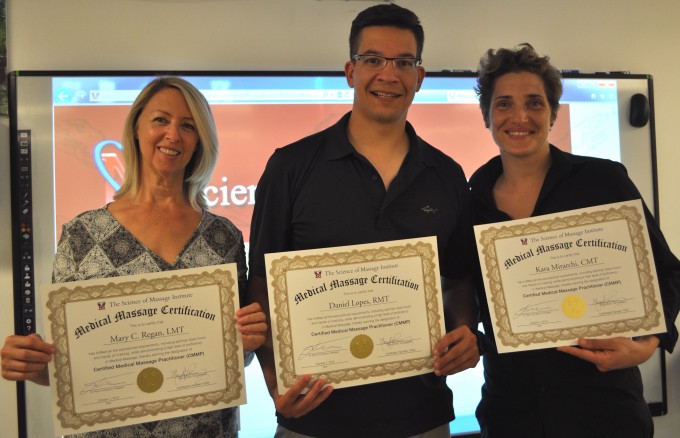 Mary Regan, Daniel Lopes, Kara Mirarchi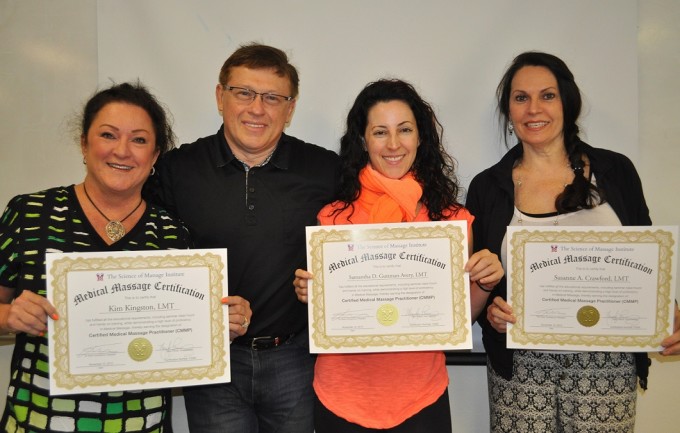 Kim Kingston, Dr. Ross Turchaninov, Samantha Avery, Susi Crawford
After fulfilling the 72 hours of training, working personally with Dr. Ross Turchaninov and much nurturing from SOMI, you all earned it!  The SOMI team has come to admire your passion to help people and build a financially successful career in the field of Medical Massage.  You have the distinction of becoming the best of the best in the newly acknowledged field of Medical Massage.
    With your dedication and commitment you have captured the vision – the bigger picture – for your business and you have a dependable, predictable treatment results that you can now provide to your patients.  We believe there is no complete rehabilitation without Medical Massage being an integral part of the process. CMMPs, you have captured that belief and we wish you all joy as you go on to help your families, friends and clients and build your careers in a completely different way.
    Within these two seminars we covered treatment for Rotator Cuff Syndrome, Middle Back Pain and Anterior Scalene Muscle Syndrome. Just wait until next year when we add The Science of Therapeutic and Stress Reduction and three more focus subjects to the 3-day seminars in addition to our existing hands-on program!  You'll love it!
    CONGRATULATIONS TO YOU ALL!!!  We wish you all success and fulfillment in the exciting field of Medical Massage.  Read their personal stories at 
MEET OUR CMMPs
Mary Preuss, Director of Services with The Science of Massage Institute
Category:
News