MEET OUR NEW CMMPs
We are happy to introduce two new Certified Medical Massage Practitioners (CMMP) who recently graduated from our Certification Program: Oleg Bouimer, LMT and Cory Fairchild, LMT. They are the newest members of our family of highly motivated and accomplished practitioners who've completed our certification program and now are able to expertly deliver stable clinical results for their patients. Welcome!
Oleg Bouimer, MA, MMT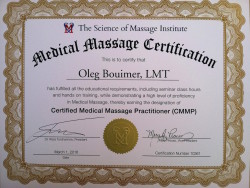 Mr. Bouimer, born in Ukraine, has been a Licensed Massage Therapist and a Certified Fitness Trainer for over twenty years. 
Mr. Bouimer graduated with honors from the Institute of Physical Education of Ukraine.
Since the very beginning of his career he has been involved in scientific research on the effectiveness of massage therapy in the treatment of sport injuries. For several years he worked at the Center for Scientific Research at the Ternopol Medical Institute in Ukraine. He is author of many articles in European and American medical and massage journals.
As a three-time Ukrainian champion in triathlon, and a coach, he learned the benefits and necessity of massage therapy very early. In his work with elite athletes Mr. Bouimer has been on the cutting edge of somatic rehabilitation. Based on his personal experience in dealing with injuries, he has gained a deep understanding regarding the pathophysiology of pain. The analysis and comparison of different modalities lead him to develop a system of Sports Massage based on a unique combination of the most valuable techniques and approaches for rehabilitation of the athlete. 

Mr. Bouimer relocated to the United States in 1993. Currently, he maintains a very active practice of Sports Massage in Los Angeles. Star players of the NBA, NHL and NFL seek him out extensively for his system of Russian Sports Massage. He teaches nationwide, and has founded a Medical and Sports Massage Club in Los Angeles for practitioners who wish to learn massage therapy based on scientific principles. 

Mr. Bouimer is founder of the Global Wellness Institute, a non-profit organization in South California which sponsors fundraising events to promote research and education in massage therapy, as well as physical education of kids in public schools. He lives in Los Angeles with his wife and son. 
Cory Fairchild, LMT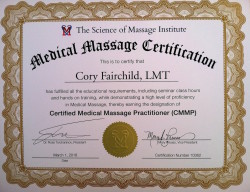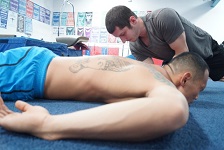 Cory Fairchild holds a Bachelor's degree from Northern Arizona University and is a Licensed Massage Therapist (LMT) in Arizona. Additionally, he is a strength coach and focuses on building world class performance through massage and training. Cory serves as an executive for the GymnasticBodies global brand.
In 2015, Cory created Firebird Performance to combine Medical Massage, Sport Massage and Gymnastic Strength Training under a single umbrella. This powerful combination allows clients to train and recover in order to reach their maximum potential.
Cory's clients have ranged from Division I college teams to Junior Olympic and Junior Elite gymnasts to treating JR National Team members from both the United States and Sweden.
Category:
News