MEDICAL MASSAGE SEMINAR SPRING SWING A HUGE SUCCESS
By Mary Preuss
Whether you want to add science based Medical Massage to your practice for additional income or you want to completely integrate Medical Massage into your practice with the challenge, excitement and the joy of giving people a new lease on life by easing or eliminating their pain Science based Medical Massage is available to YOU. Either way, we will nurture you, provide the tools you need to succeed and the communication you require for your practice.
This statement from our student S. Christine Knowles, LMT from Melbourne, Florida says it well:
"After 26 years as a massage therapist I have finally found the most effective and least physically stressful techniques to eliminate both acute and chronic somatic dysfunctions in each and every level of soft tissue!"
Just a couple more seminars and Christine will be able to join the stream of practitioners seeking their Master Certification as Shea Shulman, LMT. CMMP from Florida and Dolores Champagne, LMT, CMMP from Tennessee just earned at the Inverness weekend training hosted by the Withlacoochee Technical Institute.
We welcome Shea and Delores to the fastest growing and most successful science based Medical Massage Therapy in the U.S. We acknowledge your hard work, persistence, diligence and hours of reading and practice and wish you all great success in the future. For CMMP program information please click here: https://www.scienceofmassage.com/seminars/
The first day of Medical Massage Seminar in Inverness, Florida was certainly one of the most important training days for students' career whether they practice Therapeutic, Sports or Medical Massage. This was a hands-on day to learn what science teaches us about the technical foundations of all massage. The second day was a Lecture day on Medical Massage Concept and the last day of hands-on to learn the step by step Protocol to successfully treat Rotator Cuff Syndrome.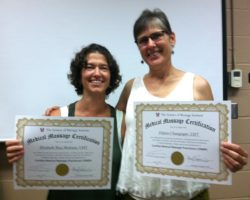 Shea Shulman (left) and Dolores Champaign (right) with their Medical Massage Certificates
Our special thanks to our famous assistant, Angela Bitting LMT, CMMP, who because of her Medical Massage and Sports Massage skills helped bring home the Women's World Cup Soccer Championship. Wow, Angela, we are still in awe!
The Medical Massage Seminar in Denver, Colorado was 3-day training with a wonderful mixed crowd of CMMPs, students who are currently working on their Master Certification and freshly enrolled therapists who are looking for clear guidance to create their own successful Medical Massage practice – and the class worked together like a symphony!
The 3-day event covered a day of Lecture on Medical Massage Concept and 2 hands-on subjects: Anterior Scalene Muscle Syndrome (a.k.a. 'Silent Killer') and Piriformis Muscle Syndrome/Sciatica (a.k.a. 'The Key to Lower Extremity'). All the stories of clinical successes and professional achievements from students who have attended our trainings in the past were incredible.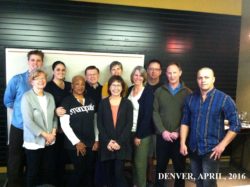 Denver Class
Our special thanks to Daniel Lopes, CMMP, LMT, for his assistance in Denver and his great success stories. Other student who has almost completed his Certification program has already been invited to work with a local family physician in a new medical spa featuring Medical Massage as the cornerstone of their therapies. Another student moved to the new state and within one month was booking 10 patients per day. Both of them said that Medical Massage has completely changed their careers and their lives.
Also, our special thanks to San Antonio, Texas for hosting Medical Massage in March for another 3-day training. Friday was hands-on training in massage techniques, Saturday was Lecture on Medical Massage Concept and Sunday was hands-on to learn the step by step protocol for treating Chronic Headache.
One of our former students, Curt Lezanic, CMMP, LMT, helped organize a beautiful reception so his clients and the physicians he has been working on and with could meet Dr. Ross. It was quite a day! Dr. Ross was truly honored as one after another came to shake his hand and express their deepest gratitude for training Curt in Medical Massage which has given them their lives back. For an LMT to gather over 30 patients including two physicians just to meet his teacher in the middle of work day clearly means that this therapist is an extraordinary practitioner and Medical Massage is an absolutely unique clinical tool! The video below is short speech Dr. Ross gave during the reception (increase volume to listen). THANK YOU TEXAS!
Here are what our students saying after they took Medical Massage Seminars:
"The fact that the information is science based and thoroughly researched supported means everything! No effort is wasted and positive results can be expected with correct assessment."
Betty Brown, LMT, TX
"The science Dr. Ross teaches is beyond necessary. It is a pivotal piece of work that every LMT needs to know. Otherwise we might as well be monkeys banging cymbals. I do appreciate the course that I have taken and SOMI has really raised the bar once again."
Michael Durrett, LMT, FL.
"I always felt there HAS to be more to massage/body work that is based on science and research. I wish this information were presented to me years ago."
Linda Waytassek, LMT, ND.
"Having the science behind the practice of massage provides the certainty to resolve the problem. As I learn and practice more I produce good results. As I deliver these results consistently clients tell others and my business is growing.
Carolynn Anderson, LMT, TN
"The Marketing tool Kit is the best information ever to prove to physical therapists, physicians & surgeons that this works."
Sharon Sadlon, LMT, FL
"Courses of Medical Massage therapy by SOMI have given me professional direction in massage therapy. I've already successfully relieved my clients' pain and discomfort and have given them hope that they can once again lead a normal, pain free productive life. This information puts the Medical Massage Practitioner miles ahead of the pack."
Dolores Champagne, LMT, TN.
Thank you all for connecting with us on Facebook and keep reading The Journal of Massage Science. The Science of Massage Team wishes you all the best!
Mary Preuss, Director of Services SOMI
602-953-2945
Category:
News
Tags: Issue #2 2016