PERSON OF THE MONTH
It has become our tradition to start the year by announcing the winner of the Case of the Month Contest. This year 65% of our readers chose Carole Suzanne Jackson, BS, MA, LMT as the winner of the 2016 contest. In recognition and appreciation of her work, we asked Carole to become our Person of the Month by giving an interview to JMS.
Carole is an exceptional therapist who has dedicated her life to helping other people and almost 100% of her practice is Medical Massage. Carole is also a tireless champion of spreading her knowledge and expertise with other therapists. We think that the more successful Medical Massage therapists like her successfully practice somatic rehabilitation, the quicker massage therapy will be integrated into the current healthcare system.
Dr. Ross Turchaninov, Editor in Chief
Here is our interview with
WINNER OF THE 2016 CASE OF THE MONTH CONTEST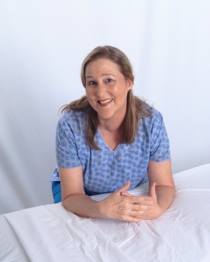 Carole Suzanne Jackson, BS, MA, LMT
JMS: Congratulations to the winner of the 2016 JMS Case of The Month Contest!
Carole Suzanne Jackson: "Thank you. It's an honor just to be published in the SOMI Journal. Winning is such an encouragement and confirmation regarding my professional niche and calling."
JMS: How did you become interested in Massage Therapy?
Massage got my attention during my college career when physicians and chiropractors were not able to relieve my own shoulder pain. Trigger point release massage gave me so much relief that I pursued massage as an independent study through my massage therapist.
Though the training was mostly limited to manual techniques, I developed intuition informed by palpation that was enough to do some self-care and start helping friends. When friends started telling me I helped them better than their licensed massage therapists, the gift of massage started to blossom. Even so I remained focused on my college career which took a turn from nursing to preventative healthcare. The full extent of the powerful tool of massage had not quite dawned on me. And, I'm still evolving in that. The more I know, the more I realize I don't know.
When the nagging thought, "I wonder what would happen if I became a licensed massage therapist," brought me to the point where I knew I had to try it. I enrolled in massage school. Today, I am more excited about massage therapy than ever. It's an exciting journey of learning more and more medical techniques to help clients.
True to my initial college major of a BS in Nursing, I had a medical orientation toward massage from the beginning. But I had very little guidance to help me grow in that. I remember the owner of my massage school saying, "There is no such thing as Medical Massage; the techniques are the same as any massage." Even so, I was drawn to modalities that were more medical and sports oriented, such as trigger point release and active isolated stretching.
An auto accident sprained my entire spine in 2007—my first month in massage therapy school. That further ingrained my quest for the best clinical outcome possible. The Science of Massage Institute provides the protocols yielding the clinical outcomes I have sought all these years.
JMS: How do you define Medical Massage and how is it different from the concept of stress-reduction massage?
Carole Suzanne Jackson: "When addressing the public, I struggle with that definition in terms of how to overcome predetermined mind-set without offending people. It is distinctly different from stress-reduction and general therapeutic massage and even from what passes as Medical Massage (MM) in many circles.
I've had a lot of "Medical Massage" done on me due to auto accident injuries. If I had clinically tested techniques done on me, it would have ended years of suffering. I've received treatment from some of the best therapists in the area, but none have even given me close to the results the true MM does. This is one of the reasons I'm so passionate about my work—I personally know what it's like to have debilitating pain.
When I introduce people to MM, I say, "It's a more focused work with something like a laser guided precision in comparison to other techniques which take a more broad target approach. Stress-reduction and therapeutic massage is wonderful for its purpose. But, it doesn't give the long-term results clinically tested MM does."
Then I try to use a word picture meaningful to that person. To a young man, "It's kind of like an off road motorcycle compared to a car. It's great when you want to ride the trails, but…" He smiled and completed my sentence, "It's not so good for grocery shopping."
I smile. "Exactly!"
If I get an audience with physicians it's best to emphasize that Medical Massage provides stable clinical results of somatic rehabilitation while addressing causes of pain originated in the different parts of the body. By restoring proper relations between different layers of the soft tissues, MM eliminates pathological changes formed in the soft tissues as a result of trauma, chronic overload or irritation of spinal or peripheral nerves.
JMS: Please share with our readers a bit more about your practice and how much of it is dedicated to Medical Massage?
Carole Suzanne Jackson: "My practice is primarily Medical Massage—probably 95% overall. But at most moments in time, it's 100%. Even if someone wants a relaxation massage, the types of people drawn to my practice have some level of medical intervention needed.
Even the way I volunteer community service generates these types of encounters. I donate up to one hour of massage per month to a national organization—Hands for Heroes. It's my way of giving back to veterans who have given so much for the freedoms we enjoy as a nation. My father served in three wars, so it's only natural for me to appreciate what our military personnel sacrifice for our nation.
People who are caregivers to their own family members and people experiencing grief due to great losses are also a people group where I donate time. My experience with being a caregiver both professionally and for my family gives me special insight into the stresses they experience—both physically and mentally. Many times, the family member being cared for is physically impaired. That puts the caregiver at risk for repetitive stress injuries and the emotional stressors are even greater.
All that is to say that even if I give a therapeutic massage, I typically have medically oriented goals in mind. I'm on the lookout for clients needing other support professionals as with mental health counselors specializing in grief with complications or various community support groups as with Grief Share.
JMS: What is your favorite type of bodywork?
Carole Suzanne Jackson: "My favorite type of bodywork is difficult to say. It's more enjoyable for me to give therapeutic massage because it isn't so exacting. In contrast, Medical Massage is not only more demanding physically and mentally, with complicated Medical Massage cases, I often spend much time researching and confirming I'm on target with their optimal treatment plans.
However, achieving dramatic life-changing results is what drives me. I have been that person with chronic debilitating pain. I personally know that PAIN-FREE LIVING CHANGES . . .  relationships, careers, productivity . . . EVERYTHING. That is the reason Medical Massage is my favorite body work. Clinically tested MM massage is the only bodywork I know that can completely resolve most soft tissue issues. When we can resolve 80% of all migraine type headaches, for example, we restore quality of life. We are changing EVERYTHING for those people who can now break free of debilitating pain. That is what makes my investment in MM the most worthwhile—the high potential of full restoration.
JMS: What is your advice for JMS readers?
Carole Suzanne Jackson: "If you are a Medical Massage clinician, do not be afraid to charge what you are worth. Know the value you offer. Understand that even at a significantly higher price point per session, the result(s) you provide are a bargain. You give people increased earning power when they can now operate at full capacity in their careers. You save them money when they can establish pain free living in only four sessions. You save them money when they can cut overall cost in half for fully managing a condition like scoliosis. You save them money when they can avoid unnecessary surgery and all the costs associated with that.
When you can deliver those kinds of results, people know you are worth it and with your help, they will realize they can save money and time by spending more money per session with a highly skilled clinician. It is a disservice to your clients when you limit your prices to the
average cost of massage in your area. That price doesn't reflect the value you offer and it will not sustain the investment of your time and money to be able to provide superior results.
My personal 'Thank You' for the Science Of Massage Institute and Dr. Ross Turchaninov.
Thank you, not just for the honor of being selected as Person of the Month, but for your dedication to bringing clinically tested MEDICAL MASSAGE PROTOCOLs to the United States— protocols that allow us to save the nation millions of dollars in healthcare costs.
Thank you for developing teaching methods and support resources that make it possible for a person of average intelligence like me to change EVERYTHING by helping people through restoration of proper relations between different layers of the soft tissues!
Category:
Person of the Month
Tags: 2017 Issue #1