INTRODUCING SOMI'S NEWEST CMMPs
Now that more medical clinics and prominent hospitals are adopting SOMI rehabilitative MEDICAL MASSAGE PROTOCOLs, it may be the time for you to take a look at your future with a science-based Medical Massage practice the way that Juan Luis Ordaz Sabag, John Maxwell and Liam Newberg did. These three exceptional therapists recently graduated from The Science of Massage Institute's Medical Massage Certification program. Here are their stories:  
JUAN LUIS ORDAZ SABAG, DVM, MMP, CMMP, LMT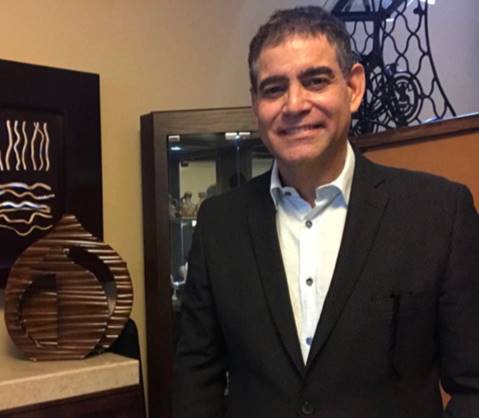 Juan Luis is a Doctor of Veterinary from Terrion, Mexico, who started to work with SOMI several years ago and now made Medical Massage his new and exciting career. He traveled thousands of miles over and over from Mexico to the USA, repeated classes and even took an active role in master classes on Medical Massage. 
After stealing our hearts and embracing fun wherever he goes, he will now return to his country bringing the gift of Medical Massage rehabilitation with him. His enthusiasm was evident when he wrote, 
"Undoubtedly, if I continue to apply knowledge, passion, discipline and dedication, my practice will continue to flourish to help thousands of patients recover their quality of life through application of MEDICAL MASSAGE PROTOCOLs from The Science of Massage Institute."  
Juan Luis is an example of dedication for everyone everywhere!     
LIAM NEWBERG, CMMP, LMT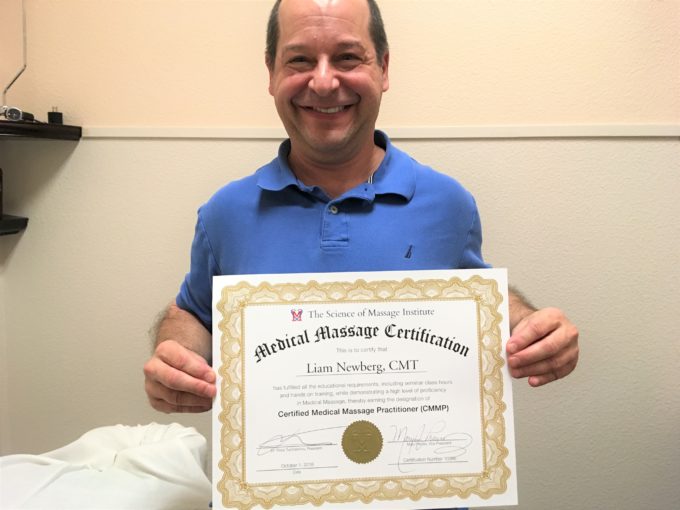 Liam left the corporate world to practice massage therapy. When Therapeutic Massage did not help to eliminate pain in his clients, he found science-based MEDICAL MASSAGE PROTOCOLs through SOMI. 
Liam now combines his Certified Medical Massage Practitioner (CMMP) designation with his in-depth knowledge of muscular systems, physiology, and Medical Massage to deliver scientifically-based, clinically sustainable pain relief and muscle relaxation to clients in Los Angeles, CA.  
Liam said: 
"Far too many people go through life with chronic pain. There is no reason to suffer any longer!  Noninvasive, clinically proven Medical Massage is available to help them."  
Dedication is definitely one of Liam's driving qualities to bring comfort and help to people who are suffering. 
JOHN P. MAXWELL, NCBTMB, CMMP, LMT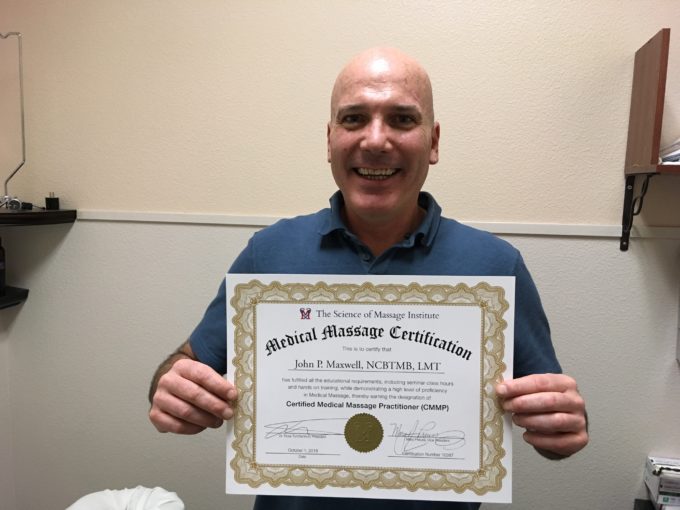 John brings a wonderfully experienced background to his new practice of Medical Massage in Las Vegas, Nevada. He has worked for some of the world's most famous Spas: Treasure Island, Desert Inn, Bellagio and Mandarin Oriental. 
Although he has taken countless hours of Continuing Education in various modalities he will tell you that: 
"Nothing compares to the education and training he has received from Dr. Ross Turchaninov through SOMI."  
John has had to travel to other cities for every hour required to earn his CMMP. We should have John's kind heart and humility, as evidenced by this statement:  
"I consider it a joy and an honor to help people live more enjoyable and productive lives with considerably less or no pain and I hope to continue to have the opportunity to make a difference for so many lives in the future."  
John is another example of total dedication to learn everything he can to bring this gift to people in need who are suffering. 
In this video Dr. Ross Turchaninov introduces our new CMMPs during recent Medical Massage Seminar in Southwest Naturopathic College in Tempe AZ.
I know that sometimes we all get tired, overloaded, seemingly endlessly working and not nearly enough time to even support our own basic needs. Still, if you've waited all your life for something important to accomplish…start now and join the SOMI family of practitioners who are honored every day for their contribution to society. You will become part of wonderful network of dedicated therapists who support and help each other in their quest of helping people in pain.
CONGRATULATIONS to every one of you and to our current and past students for your dedication to make the world a better place for others!    
We wish you all the best,  
Mary Preuss, SOMI Director of Services
Category:
News
Tags: 2018 Issue #3