by Mary Preuss, SOMI
We have seen "a force of nature" in our five newest Certified Medical Massage Practitioners (CMMPs).  Our most sincere and hearty congratulations to Theresa Brumble, Mike Devo, Debra Earp, Steve Smith and Misa McCue. 
Welcome to your new practice. Welcome to support from Dr. Ross whenever you need it but most of all welcome to the SOMI family of dedicated, talented, gifted, educated practitioners who are passionate about rehabilitating people who are in pain!  We love you guys!
Theresa Brumble, LMT, CMMP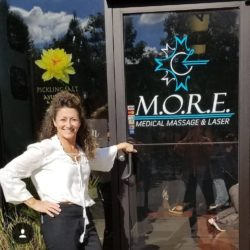 This is the only LMT in the country who 'oh so gently' pushed and plotted to have Dr. Ross come to her facility for 2 years.  Because of Theresa, Dr. Ross took 2 flights and driving time for the Somers Point N.J. seminar and our wonderful Theresa received her CMMP certificate in her own clinic.  Now THAT'S grit and a force of nature! 
Theresa Brumble enjoyed the medical field throughout 20 years of being a CAT scan/ MRI technologist, but it prevented her from helping patients in a way that would improve their quality of life. She was always drawn to the therapeutic or medical side of bodywork so she went to massage school in her late 40s, purchased a Class IV Deep tissue laser for pain and started her own business MORE Massage. 
However, it was when Theresa went to her first SOMI's Medical Massage seminar she realized SHE could dramatically help her patients with Medical Massage and that changed her practice.
Now she has found success with MEDICAL MASSAGE PROTOCOLs combined with deep tissue laser. The laser reduces inflammation, increases blood flow and heals on a cellular level so the while Medical Massage identifies and removes initial trigger. So, two combined are amazing integrative clinical tool!
Mike Devo, LMT, CMMP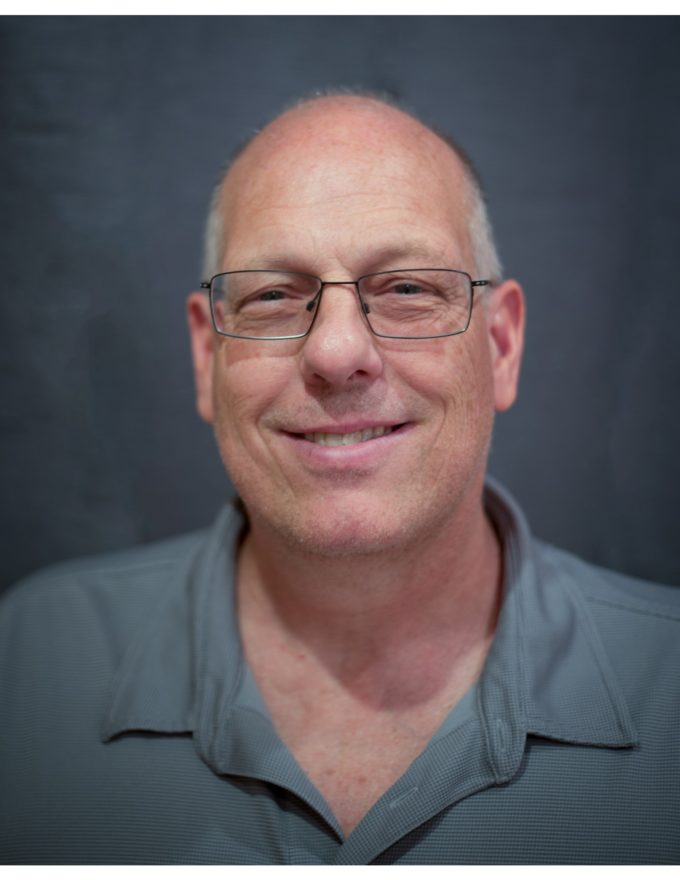 Mike actually brought SOMI to Chicago.  He knew what he wanted and he came at us from every angle to make this happen.  He brought people to learn Medical Massage, they caught on and now we have added Chicago to our yearly list.  Force of nature indeed!
A UPS delivery driver for 29 years actually led him to the Medical Massage field with pain of his own.  Mike attended massage school while still driving for UPS and at the same time he developed Thoracic Outlet Syndrome which led him to find that for complete rehabilitation the winner was massage therapy. 
He was driven to learn and he found our wonderful friend Boris Prilutsky, another one of the true pioneers who brought Medical Massage to America. It was through his relationship with Boris that Mike learned of Dr. Ross and now he became SOMI's Certified Medical Massage Practitioner.  Mike has worked hard to make this become a reality and he will work just as hard spreading this Medical Massage knowledge and its power to heal. 
Debra Earp, LMT, CMMP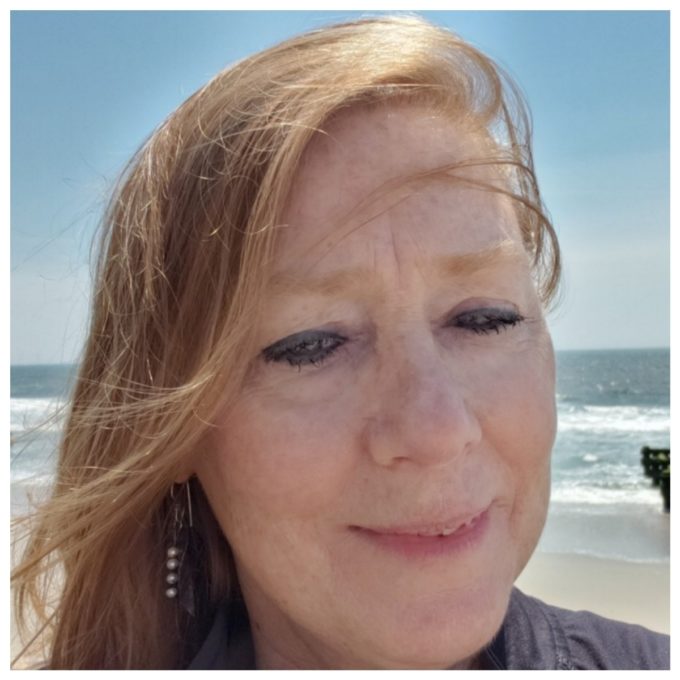 Deb is truly a "force of nature" to have accomplished all she has done and given in her careers. Thank you, Deb for serving your country and giving to every one of us at home.  We appreciate your sacrifice and your efforts and now we welcome you to your new world of SOMI Medical Massage.
Deb grew up in Central Illinois in the quaint City of Peoria set on the Illinois River. She decided at a young age that she wanted to see the world so she joined the Navy in 1981 and served on a Destroyer Tender, USS Samuel Gompers-AD37 along with her brother. They were the first active duty brother & sister team to serve aboard the same ship.
She remained on active duty from 1981-1983 and remained in the Navy Reserves until 2006. And then was recalled to active duty after September 11, 2001 where she remained until 2002. After completing her active duty in the Navy, she continued her dreams of traveling the world. In 1986 she was hired by Trans World Airlines as a Flight Attendant based in St. Louis and remained with TWA until 2003, having served 18 years.
Deb made the conscious decision to change careers after leaving the airlines. In 2003 she enrolled in the St. Charles School of Massage Therapy. After several years of practicing traditional massage, she changed directions into SOMI Medical Massage therapy. She has spent the past several years building her own successful Medical Massage therapy business.
"Building my client base consumed much of my focus. My goal in practicing Medical Massage therapy is helping people feel better and to live without pain." 
Deb is fortunate to be a licensed therapist in two states. She currently splits her time between St. Louis, Missouri and Scottsdale, Arizona.
Steven Smith, LMT, CMMP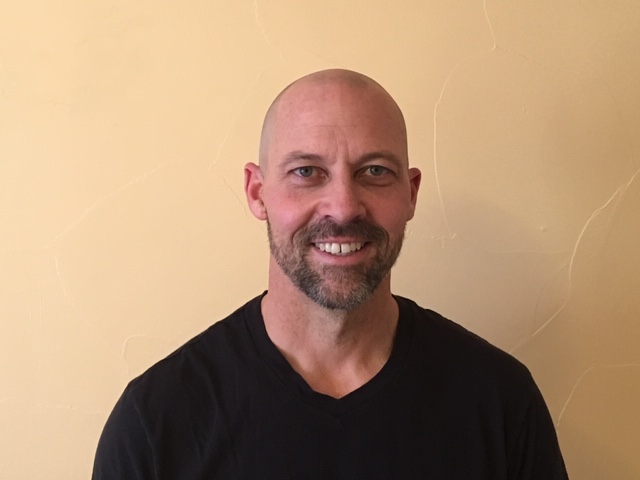 Steve is a force all his own. He has the discipline and drive to earn his CMMP and this gives him a secure future.
Steve owned and worked at CrossFit gym for 10 years. During this period of time he became convinced that massage therapy was important to health and wellness. He sought to identify the source and appropriate treatments for pain and muscle dysfunction commonly seen in the gym when he found Dr. Ross and SOMI. 
The Science of Massage has presented the last 100 years of rehabilitative Medical Massage throughout the Western world and Steve was greatly impressed by SOMI's scientific data and training. He has the drive and dedication to use Medial Massage to successfully treat various ages and conditions with chronic somatic dysfunctions.
Misa Kobayashi McCue, LMT, CMMP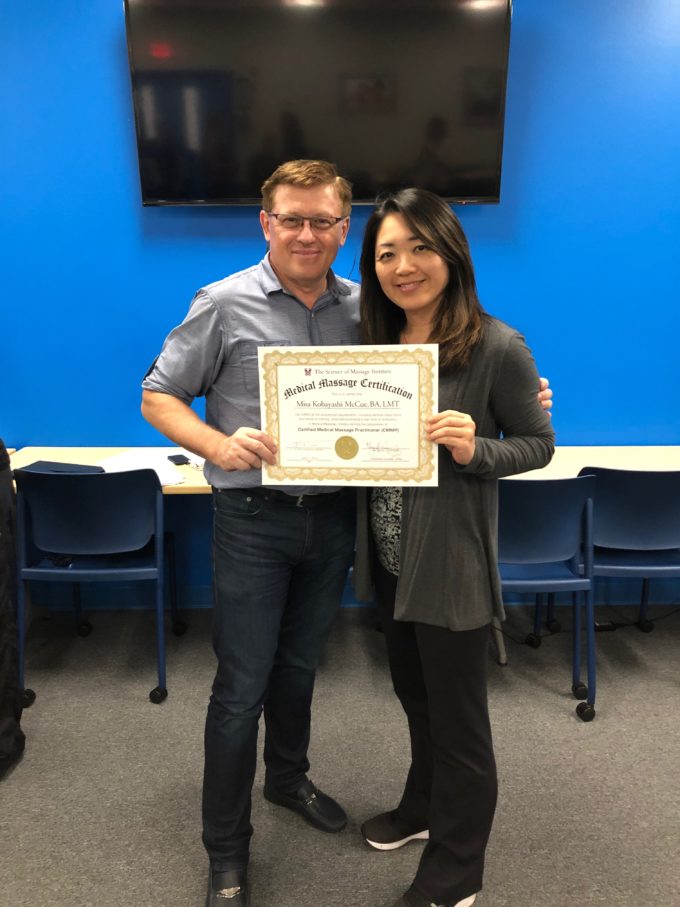 Misa is one of the sweetest LMTs you'll ever work with.  Kind, generous – a real giver, a dedicated worker and a 'force of nature' that gently gains the trust of her patients!  She has found joy in her profession now that she can count on results from Medical Massage.
Misa was born and raised in Maebashi, Japan, graduated from Bunkyo University with a BA in International Studies. After working a few years, she moved to the US and was a stay-at-home mom for 10 years.  
She had always been interested in the medical world but appreciated the Alternative Medicine approach. She attended Manatee Technical Institute with honors.
"Although I had a hard time trying to understand, I am Japanese and English is my second language, I knew right away that this what I would love to do.
Shea Shulman, LMT, CMMP, "has been my biggest supporter," throughout my SOMI Medical Massage education so I was lucky to be introduced to Medical Massage from Dr. Ross Turchaninov after only one year of experience as a Licensed Massage Therapist.
When I attended MM class for the first time. BOOM!  It was like the lightning hit and sparked my brain into a full throttle!
As soon as I finished my first class SOMI Medical Massage class I started working on patients' issues with the Medical Massage approach. I was anxious, but I learned something with every patient. When I evaluated the patient correctly, I delivered results almost every time. 
I learned that there is a scientific reason for every treatment, movement and strokes that I do during a session and because of that I can deliver positive results for my patients.
My greatest fulfillment is helping patients prevent surgery with manual soft tissue work. I love that! So many people suffer from years of pain. They don't know the cause or they just pretty much give up and live a half-life with pain. Medical Massage can be so helpful for those in this category.
I am grateful to Dr. Ross for passing on his great knowledge and techniques to us. I believe his Medical Massage approach will change the massage world drastically."
Category:
News
Tags: 2019 Issue #2