Our Person of The Month is a very special man – Dr. John Sharkey, an anatomist from Ireland. There are many talented therapists and educators who are contributing to the further development of the profession from scientific and clinical perspectives. However, there are special people who work tirelessly to further develop our profession and the results of their work are used by educators and eventually therapists.
Very frequently the work of these scientists who greatly contribute to the profession has less exposure that they deserve, despite that they are real movers and shakers. JMS was lucky to interview some of them Dr. T. Filed, Prof. Melzack and Prof. Katz and they shared their thoughts with our readers. Dr. Sharkey is a scientist of this caliber and we were lucky to publish his article 'Concept Of Biotensegrity' (https://www.scienceofmassage.com/2015/11/concept-of-biotensegrity/) several years ago and now he graciously agreed to talk with JMS despite his very busy schedule.
Dr. Ross Turchaninov, Editor in Chief
Here is our interview with:
ANATOMIST AND FASCIA SCIENTIST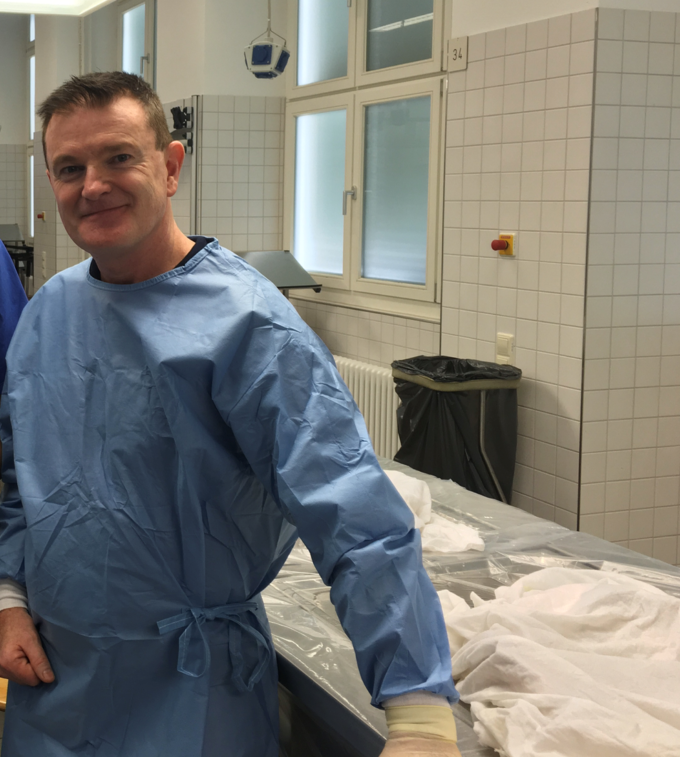 J. Sharkey, MSc
JMS: Please tell our readers about your work as an anatomist and how you became involved in the exploration of somatic tissues.
Dr. Sharkey: Thank you for your interest in my work. I am a clinical anatomist based in Ireland. The role of a clinical anatomist is to teach undergraduate students and post-graduate medical specialists precise and accurate anatomy.
I specialize in anatomy of the fasciae (singular fascia). I provide workshops in integrative manual therapy techniques which are informed by my model entitled "Biotensegrity-Anatomy for the 21st century" (Levin's biotensegrity). I have been involved in the massage and bodywork therapy professional since 1977. Since that time I have experienced many somatic manual and movement therapies across the world.
During my career I also gained formal qualifications in exercise physiology. In the mid-1980s I was blessed to meet and form a close friendship with my colleague Dr. Leon Chaitow. Leon and myself were to discover much common ground. In our early career days we had both been strongly influenced by the father of health related exercise Bernarr MacFadden (there was no letter "d" in Bernarr). Unfortunately, that is too long a story to do justice to in this short response. Dr. Chaitow and I worked closely together developing and delivering courses in European Neuromuscular Therapy up until his untimely (and for me devastating) death in 2018.
I provide educational opportunities for non-medical and medically trained specialists through human cadaver dissection courses focusing on fascia anatomy and the continuity of our form. Understanding the anatomy and embryological formation of fascia provides the surgeon with access to difficult to reach anatomical regions through bloodless planes while preserving as much of the continuity and integrity of the fascia as possible. This is also essential knowledge for Medical Massage Therapists and provides rich new territory for exploration.
JMS: Many therapists concentrate on rehabilitation of skeletal muscles while paying less attention to the fascia. Please share your views on the role of fascia in the normal functioning of the human body.
Dr. Sharkey: Currently I specialize in the treatment of chronic somatic pain providing patients with what I call "Osseofascial therapy." Osseofascial therapy is a bespoke integrative approach which for the first time includes bone as an integral part of the myofascial continuum.
Knowledge concerning the continuity and specialization of connective tissues generally and fascia specifically is essential for Medical Massage therapists to ensure that informed therapeutic interventions can be provided to their patients. While it is essential to include skeletal muscles concentrating on muscle fibers alone is a reductionist approach.
The fasciae are the most important tissues in human anatomy and physiology as they are essential in our continuity and communicative forces involved in local and global Mechanotransduction. Therapists may need to isolate their "attention" and "intension" on specific tissues, however, they must also integrate their work into a full body perspective.
Knowledge of fascial anatomy, fascial planes and the osseofascial continuity ensures the therapist can effectively reduce or eradicate chronic pain conditions including unresolved sciatic pain, chronic low back pain, knee, neck, elbow and headache pains without fail.
My dissections and the research of colleagues, such as the Stecco's, has changed our understanding of fascia and its role in pain, motion, emotion and movement. Up until recent times fascia was not included in the overall focus or equation of many therapists or surgeons yet fascia has the unique potential to provide new territory for providing anatomical based solutions to unanswered chronic pain conditions. This is the most exciting and rewarding aspect of my work. The myofascial (endo, peri and epimysium) and osseofascial continuum provides a body-wide network that translates mechanical forces in to physiology, metabolism and ease of movement. I would welcome the opportunity to bring "Osseofascial therapy" to your community.
JMS: You are participating in different scientific projects concerning fascia. Please share with our readers the latest data you consider important to therapists who work in somatic rehabilitation.
Dr. Sharkey: There is much that I am delighted to share. Currently I am involved in unique fascia research with my colleagues Dr. Carla Stecco (Professor of Anatomy), Dr. Robert Schleip (Fascia researcher), Dr. Vladimir Chereminskiy (Head anatomist von Hagen's Plastinarium, Germany) supported by an enthusiastic group of therapists of various stripes. In August of this year Dr. Stecco and myself will present this historical fascia research to delegates of the 19th Congress of the IFAA (International Federation of Associations of Anatomists) in London. We will be supported by an amazing team of anatomy experts. To learn more about this research project it is called the Fascial Net Plastination Project or FNPP. We are aiming to produce a full plastinated specimen of the superficial and deep fascia by 2021. We hope to present these historical fascia specimens for the first time at the International Fascia Research Congress which will be held in Montreal, Canada in 2021.
I am currently working with Dr. Antonio Stecco to investigate the potential for force transfer of lacterus fibrosus and Dr. Stecco will join me in 2020 in Dundee University, Scotland for a full body dissection exploration. We recently learned from the research of Professor Martin Grunwald (Homo Hapticus ISBN: 978-3-426-27706-5) that the entire fascial net is the most richly innervated tissue in the human body with approximately 100 million sensory nerves, more richly innervated than the organ of sight.
Professor Grunwald took the density that you have in a 2-dimensional piece of thoracolumbar fascia based on the research of both Stecco and Mense and calculated the 3-dimensional density in a square millimeter. Then using data from the visible human he took the total body mass to help him extrapolate a more accurate figure concerning sensory nerves in our fascia. The result, our fascial net contains 100 million sensory nerves. This means our fascial network is the richest sensory network for perceiving our body.
What is also interesting is the new research concerning radioactive isotopes in fascia and the rate of recovery or renewal time for different connective tissues such as the calcaneal tendon. This is an area in which I have a particular interest as I am of the opinion that the majority of pain and injury that we treat in our clinical practice is due to lack of recovery. Finally, not all fascia is the same. Fascia thickens and thins. It doubles back on itself and even triples back on itself (if there is such a term) and based on this morphology we discover that specific fasciae contain very different temporospectral nerve endings all contributing essential information to the brain ensuring we know where we are in time and space-even with our eyes closed. I am certain that this research reinforces what many in the Medical Massage community currently and for many years have been doing.
JMS: Do you have a favorite type of bodywork?
Dr. Sharkey: Many bodywork therapies have, over the years, resonated with me. I have taken what I consider to be the best elements of each and integrated them into my own practice. I combine European, Asian, North American and Pan-Oceanic approaches based on a modern understanding of ancient wisdom (i.e. science and research based). We should not throw out the baby with the bathwater.
JMS: What advice can you give to our readers?
Dr. Sharkey: Each of us has won the most amazing lottery. Life.
In all the millions and millions (billions in fact) of universes that exist we have not discovered life within, our outside, our own universe except on one small blue spec of space dust we call earth. Love each other and live each day knowing how unique you are in the universe. Trees breathe out so that we can breathe in. We must have a symbiotic relationship with all living things on this planet and we must respect nature in an effort to protect the future of our children for generations to come. Everything we know of human anatomy must obey natures laws. If it contradicts nature it is wrong. Learning Osseofascial techniques is a must. I hope our paths will cross one day.
Love, John
Message from JMS to our readers:
As you have noticed, we very rarely advertise any product or classes on the pages of JMS despite that we are constantly bombarded by various offers. However, we made an exception in this issue for Dr. Sharkey' dissection classes because of their importance to therapists and patients. Nothing can beat the professional impact the dissection course has on therapists. It's one thing to see tissues, organs and body parts in pictures, and it is a completely different experience to see them during dissection class. Such classes make therapists 100 times more efficient and knowledgeable. If you decide to take a dissection course please consider Dr. Sharkey's class. You will be best served learning from the best!
Dr. Sharkey provides biotensegrity focused dissection courses for somatic practitioners in various locations around the world. He will be delivering a five-day full-body dissection course in 2020 (November 16th, 17th, 18th, 19th, 20th) at Ohio State University and he will shortly post details on: johnsharkeyevents.com Special discounts are available to groups of five.
Join him and like-minded therapists in Ohio State University (USA), Dundee University (Scotland), Griffith University (Australia) and other locations worldwide.
Contact info: John.sharkey@ntc.ie
Facebook john.sharkey.925
Category:
Person of the Month
Tags: 2019 Issue #2