by Cory Fairchild, CMMP, LMT
          In JMS's 2020 Issue #1, we discussed the first three phases of the Mindset Framework™ (Intrigued, Hopeful, Returning) and introduced the concept of consultative sales. In 2020 Issue #2 we discussed identifying your ideal client and making them passionate ambassadors of your brand.  
          Even many of your most passionate clients will fall off over time. Why? Pain and stress are strong motivators for an individual to seek treatment. When the pain and stress is no longer at the top of their mind, the memory of it begins to fade. As it fades, clients tend to stop doing the things which made them feel better in the first place.
          Whether it is regular massage work with you or their self-care, the client will tend to fall back on old habits and can end up with many or all of the original symptoms you previously treated. In order to prevent this endless cycle of treatment and relapse, it becomes essential for clients to engage with your brand on at least a monthly basis. Not only will the client stay in better health, but your business will also grow from them booking more times during the course of a year.
What is Engagement?
           Engagement is any time a client interacts with your brand outside of the appointment or booking process. Imagine one of your recent clients. Now, think about how often you have some form of interaction with them between appointments. It may be through email, social media or events. How many times do they have a chance to be exposed to your brand? Is it consistent? Is it effective at bringing them back to book appointments?
          Below are four ways in which you can drive stronger engagement to build your business. Start with one at a time and practice it until you master the new business skill. You will know you are at mastery when you see at least a 25% quarterly increase in your appointment re-bookings from that groups of clients.
          Keep in mind that in order for these to work, you must be consistent. You must be likable. You must offer genuine value.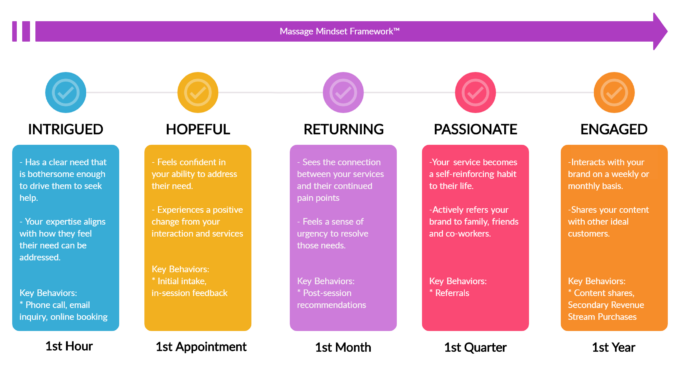 #1 – Show Up Where They Are
          In Part II, you learned how to identify your ideal clients. Through this exercise and your own conversations with them, you know a great deal about their common interests, goals and habits. Think about their behaviors and where these clients spend their time. Where do these clients go during the week for entertainment? For work? Are they obsessed with TikTok or a specific website? Now show up there and offer value.
          The concept is not a new one. If you wanted to sell apples in medieval times, you are more likely to position your cart on the corner of a busy road where people walk past on their way to or from work. While 'showing up' is more abstract now, it is equally important to be top of mind for your clients. Let's imagine that a CrossFit athlete is an ideal client persona for your business.
          What are ways you would stay top of mind for a competitive CrossFitter? Below are a number of examples (not an exhaustive list). Please note that some are more COVID-19 friendly than others.
In Person
          If your ideal clients are CrossFitters, most likely there are only a handful of local boxes (gyms) where they work out. Get an introduction to the owner or trainers and offer a free regular self-care lecture or a sign-up sheet for a stretch session. In both cases, you are addressing a direct problem (the injury rates on competitive CrossFitters are historically high) without giving away your massage services for free.
          It is essential that you show up humbly to offer value without the clients feeling like you are prospecting new appointments. Remember, you are there to maintain existing relationships. With this approach, you will naturally retain those clients while organically acquiring some new clients that fit your ideal persona.
          Going a step further, you could volunteer at the CrossFit qualifiers and games your clients compete in. Become indispensable to that population in ways that offer genuine value while taking only minor time commitments from you. Be consistent enough to stay top of mind.
Online
          CrossFit athletes tend towards being performance driven. This means researching new training methods to improve their gains or recovery between workouts. Understanding this, you might participate on any local CrossFit forums or training websites where you can offer your perspective on sport performance. Again, you are not there to sell but rather to become an integrated part of the community. If everyone knows your name and see value from your discussions, you will be the first they call for bodywork. You will be pleasantly surprised at how your ideal clients will even come from other states to work with you.
Social Media
          Another appealing aspect to many in CrossFit is the community. Join local CrossFit Facebook Groups. Actively listen to the needs commonly expressed in those groups and find ways you can help. Offer valuable guest posts for the page of the local CrossFit box that you have built a relationship with. Continuously finding good content is a pain for any social media marketer, so be the solution.
          Does this work for other types of clients? Yes! Maybe your clients golf, do yoga or are career professionals who attend networking events. The approach of showing up where they spend their time is the same, even if the details of where that is change.
#2 – Create Content for Your Ideal Audience
          Just as you can create valuable content for platforms frequented by your ideal clients, you can also do this for yourself. While there are many approaches to this such as social media, blogging and print a good starting point is with email.
Email and Newsletters
          Statistically, email continues to be one of the most effective sales mediums in the digital age. If you come off as likable and interesting to your ideal clients, they will continue to engage with your emails.
          How can you interest your clients? Actively listen to them talk about their passions. Talk to these commonly held interests within the emails in the same way you would hold a conversation during a session. It does not always need to be specific to massage. In the CrossFit example, you might send out a performance newsletter and find several good articles about performance or top competitors in the world. Place a non-intrusive link to rebook or a coupon in the email body for them to use if desired. Your intent is to offer value and stay top of mind. They will rebook naturally without you needing to 'salesy.'
#3 – Go Virtual
         COVID-19 shutdowns across the nation fundamentally changed ways in which you interact with your clients.  The most successful businesses lean into these types of changes and adapt to new circumstances. While you cannot massage someone virtually, you can keep your pool of clients engaged. Offer something relevant to their current needs.
          An example might be to offer a live guided meditation weekly (if you have experience) as a form of alternative stress reduction. Clients may be feeling anxious and isolated and this continues to emphasize your brand as a solution that promotes feelings of wellness and relaxation. Another approach might be to focus on self-care or to offer small virtual events focused on learning something. One business began offering a weekly 'Craft Time' meeting during COVID-19 for its clients and saw a tremendous community build effect.
          Whatever your virtual approach, take care to present your background space with the same thought that you do your massage room. An unkempt space will come off as unprofessional, but one meticulously put together to appeal to your ideal clients will increase their receptiveness to you.
          No matter what you offer, the key is still to actively listen to your ideal clients and align with those needs. Engagement is about the client rather than yourself and authentic interest coupled with creating value will keep clients booking for longer periods in the future.
#4 – Automate to Engage While You Sleep
          If you have a large client pool, it will be challenging to personally interact with hundreds of individuals to engage them and continue building the business relationship. This brings a need to automate common interactions that eat up your time. You might find that repeat clients only need a reminder email or automated text to prompt them to rebook. If those reminders have a link to book through your online schedule, they have the complete self-service to set up their next appointment(s). This allows you to focus your phone time, where you might find a need to call new incoming clients instead of calling every client every time.
          Aside from operational tasks, automation can be used to do the other three approaches. Events, emails, social media posts or relationship building all benefit from software that are designed for small businesses. Once you set these up and create the content for your clients, you can dictate the schedule and allow the software to do the work for you.
          For example, you might create a series of emails detailing self-care for a specific Medical Massage protocol. The emails start after the appointment and continue daily to review your recommendations and to also check in with them. The client might be annoyed by daily phone calls about this, but often will be delighted by a personalized email to support their treatment. Encourage them to reply with how they are feeling that day to identify any needs for a phone call follow up. You will find this way that clients more consistently do their self-care and complete the entire treatment series. A win for both your business and the client.
          Taking it a step further, you might have a secondary automated email series for post-treatment. Instead of a daily frequency, this sends once a month. A client who you treated for frozen shoulder might receive ergonomic tips for sitting at their work desk, stretches for the bicep or helpful articles you have found online. As with all emails, do not forget a link to book on your website. While it might be months between appointments, you will still be top of mind for the client and they will have awareness to book when they first feel pain or stress rather than waiting until the problem has completely blown up.
Conclusion & Review
          Engagement is the final piece of the Mindset Framework™ and has the dual purpose of extending the lifetime bookings and building a stronger brand that will increase your presence in the communities of your ideal clients. Putting the entire framework together elevates the type of experience you can provide will focusing on the clients.
You will uncover the needs of clients quickly by focusing on what drives them to your services and communicating to that need.
You will build their confidence in your ability to solve that need and demonstrate a positive change from your interaction and services.
You will establish the connection between your services and the client's broader health and wellness goals in order to rebook them.
You will make an impact on their health and wellness beyond a single session to inspire passion in clients so that they become a walking advertisement for your brand.
You will continue to engage clients with valuable content or related services to keep top of mind so that they continue to book with you in the longer term.
          You already have the necessary skills as a massage therapist to build a lovable and successful business. Apply what you already do well in the treatment room to your business. As you do this and focus on solving the needs of your clients, you will feel more confident as a businessperson and will become more and more successful.
Appendix: Tools I Use to Build & Automate
          Massage therapists often ask what tools I recommend in order to integrate technology into their practice. Below are two sets of solutions, one for a beginner and one for a more advanced user.
Beginner friendly solution: Square
Square Appointments (Free)
Square Online (Website, $8-$30/mo)
Square Promote (Email Marketing, $5-$30/mo)
Zoom (Video Conferencing, $15/mo)
Buffer Social Media Scheduling (Free tier)
Total $28-75/mo
Note: AMTA members also get an initial sign up processing fee reduction.
Advanced solution: Various
Acuity Scheduling ($25-$50/mo+)
Ghost Blog (Website, $40/mo)
Active Campaign (Automated Email Marketing, $15-$70/mo)
Buffer Social Media Scheduling (Free tier)
Zoom (Video Conferencing, $15/mo)
Total: $95-$175/mo
About the Author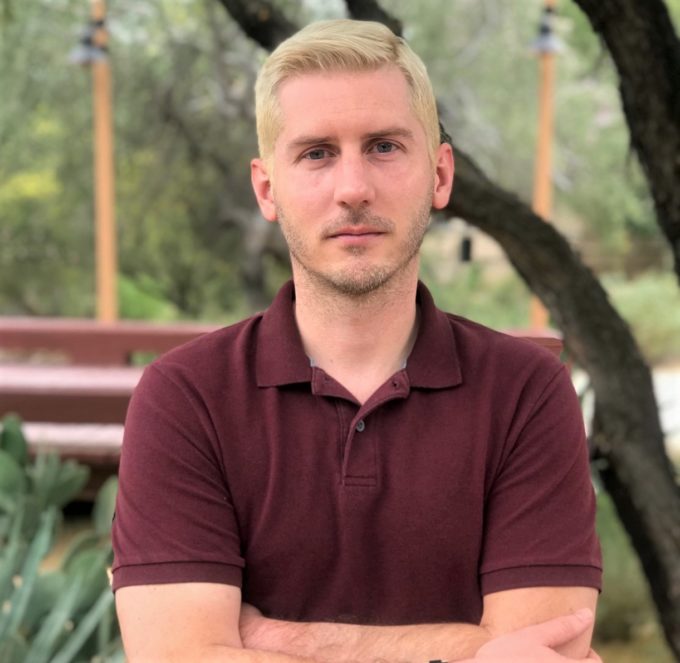 Cory has been promoting health and wellness since 2008. He holds a bachelor degree from NAU, is a Licensed Massage Therapist (LMT) and Certified Medical Massage Practitioner (CMMP) with a part time practice focusing on athletic performance.
           He has also worked nearly ten years in the product management space, driving growth for small and enterprise businesses through understanding the needs of their customers to build products that provide greater value.
Category:
News
Tags: 2020 Issue #3