At the end of each year we give our readers the opportunity to look one more time over the cases contributed to JMS and choose the Winner of The Case of the Month Contest. This year, 38% of JMS readers choose the contribution by Ani Papazian: "Medical Massage vs. Postural Imbalance After Radical Mastectomy." We also have a tradition of asking the winner for an interview. Here is our interview with:
WINNER OF THE 2012 CASE OF THE MONTH CONTEST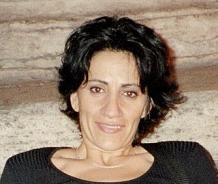 Ani Papazyan, LMT
JMS
: Our congratulations on being selected the Winner of the Case of the Month Contest for 2012!
Ani Papazyan
: Thank you! Also I would like to express my gratitude for those who voted for my contribution. It is especially encouraging for me since all contributions to JMS in 2012 were very interesting.
JMS
: How did you get into the field of massage therapy?
Ani Papazyan
: Playing volleyball in the former Soviet Union for the Armenian National Team, we were required to get massages on a weekly basis alongside with a sauna and a cold pool. That is when I realized firsthand the importance of massage for athletic performance. Then in college where I was getting my BA in Kinesiology in Armenia we had a massage therapy class where I learned the science behind it. With the help and the passion to teach from an amazing professor, I learned how massage can help people overcome injuries, rehabilitate them from surgeries and that is what instilled the love of massage in me – the ability to help people and make a difference in their lives, health and athletic performance. 
After moving to United States in 1992 just one year after graduating from college, I knew I wanted to stay in a health field and continue my passion to help people. I didn't think twice about becoming a massage therapist.

JMS: Please describe to our readers your business model and who are your clients?

Ani Papazyan: After graduating from a massage school, I was working at a chiropractic office, where I met a wonderful choreographer who referred me to a client that ended up being Janet Jackson. After working on her few times, I was given an opportunity to go on tour with her, which I couldn't pass up at the time given my love of travel so I did her "Velvet Rope" World Tour in 1998-1999. Throughout that time, I was working on her and the dancers who danced and exercised for hours. My job was to keep them pain-free, relaxed and ready to dance for several hours a night then to be ready to do the same thing night after night. That is when I decided that I only want to work with athletes, people who are overcoming injuries/surgeries; cases that challenge me. 
Now being in practice for more than 17 years, I specialize in pain relief only. About 90-95% of my clients are professional and amateur athletes; people that live very active lifestyles, people that seek post-surgery rehab, and people who would like to live a pain-free and healthy life.

JMS: What techniques and methods are the most helpful when you deal with pathological conditions?

Ani Papazyan: When working with pathological conditions, my starting goal is to establish proper efferent/afferent communication, balancing the autonomic nervous system. After being in practice for 12 years, I decided to become a nutritionist, and especially a functional medicine practitioner, and also learn EFT (emotional freedom technique) since I was seeing clients on whom sometimes just using a variety of bodywork techniques were not enough. 
A perfect example: A local dentist sent her client to me for TMJ issues. The client was in so much pain that the dentist was unable to do any work on her. After an initial assessment and a series of questions, I realized that the client's pain was emotional and had started after her divorce. So after applying EFT and some passive stretches within three sessions, she was pain-free. Being able to integrate the science of medical massage and nutrition has helped me give the best possible care that I can to my clients.

JMS: Do you have a favorite type of bodywork?

Ani Papazyan: I can't say that I prefer a particular type of bodywork. I prefer anything that challenges me. If I had to pick one, it would definitely be sports massage. 

JMS: What professional advice do you have for our readers?

Ani Papazyan: It does not matter how long you have been in practice or how good you think you are, continuing education is the key to providing the best possible service to your clients. Do not have a set protocol for every condition, treat each case/each client as an individual. And absolutely enjoy what you do.
Category:
Person of the Month